General John Winder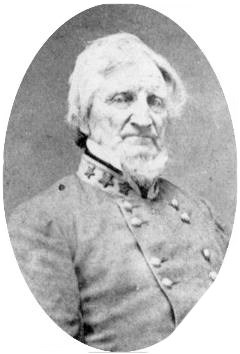 General John Winder, a West Point graduate and veteran of the Mexican War, resigned his Federal commission in April 1861 when the Civil War. He began to serve in the Confederate army with the appointment to provost marshal and commander of prisons in Richmond. Later he was given command of all military prisons in Alabama and Georgia and for a time, made his headquarters at Andersonville.
His son Sidney Winder was selected to find a suitable location for a new prison to help relieve overcrowding in Libby and Bell Isle in Richmond. His selection of Andersonville was based on its proximity to the railroad and information given to him that the location had a "large supply of beautiful clear water." The General's nephew, Richard Winder, was given the responsibility of constructing the prison.
General Winder died on duty at the Confederate military prison in Florence, South Carolina, of a heart attack in 1865.
In all probability, the responsibility for the conditions at Andersonville should fall on the Winder's shoulders as much as on Captain Wirz.
Last updated: April 14, 2015