Lesson Plan
The Memory Star Project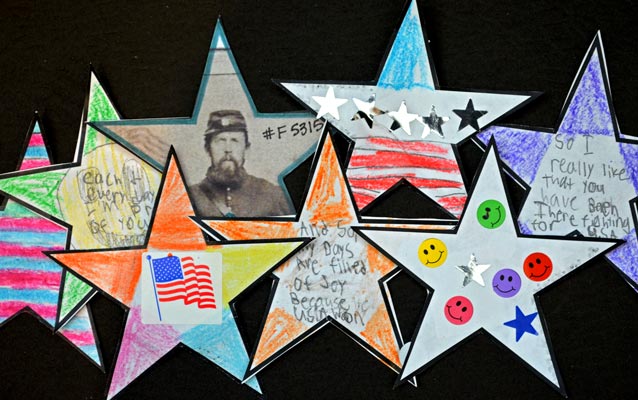 Grade Level:

Pre-Kindergarten-General

Subject:

Art, Civil War, Community, History, Military and Wartime History

Duration:

30 minutes

Group Size:

60 or more

Setting:

classroom
Overview
The Memory Star Project hopes to collect 13,000 stars from classrooms, families and community members across the country; one star for each life that ended too soon.  13,000 stars illustrate the physical scope of prison fatalities but also the infinite number of dreams, loves and unrealized futures that each person possessed.  Just as prisoners came from all over America, so too do we hope to have Memory Stars from every state.
Background
"And while the stars their vigil keep,
Across the silence of the sky,
The nation's love for those who sleep,
At Andersonville shall not die."

During the Civil War, soldiers died in battles, hospitals, and fields. They died as free men and prisoners. At Andersonville prison, 13,000 United States soldiers were lost in a mere 14 months. Throughout the entire war over 56,000 Union and Confederate soldiers died in captivity. Some prisoners were no more than children; their lives ended, and often no one remains to remember them. In 2014-2015, Andersonville National Historic Site would like to honor these lives.
Why a Memory Star?
Stars are important symbols in history and literature, and they continue to fascinate our scientists, explorers, and poets. Stars are navigational tools for sailors or lights for travelers in the dark. Stars are also major figures in military insignia, regimental flags and medals.
Stars were important in both the United States and Confederate flags during the Civil War. Soldiers protected their flags from capture on the battlefield. In some cases, they tore their flags apart and hid the pieces, before they would let someone else take their flag. Inside of prisons, like Andersonville, flags were illegal. If found they might be taken and destroyed. Prisoners cherished their flags, because they represented everything they were fighting to protect. After the war, veterans met and put the pieces of their flags back together. Their flags were reunited, in the same way that the Union was mending itself.  
150 years later, we want to bring our stars together with your help.
Materials
 For this lesson, you will need white 8 1/2 by 11 paper, the star template, scissors and art supplies. 
This is the template necessary for participation in Memory Star Project. There are six stars on each template. Download
Procedure
How do I get the Memory Stars?
A template is available for printing from the materials section above. 
Print out the page on plain white paper, cut out the stars, and decorate both sides using the guidelines below.  Remember to have each artist sign their star on one side!    
What can I put on my Memory Star?
What is something you love?
What is your dream for the future?
Who does this star remember?
What does the star mean to you?

The stars all begin as the same blank canvases. Use the questions above to think about what is important to you today. Very quickly we find that the things we value are very similar to the things that Civil War prisoners held dear. 

You can fill the Memory Stars with colors or designs, poetry, messages to a Civil War soldier, a thank you note, a soldier's name or a picture. The star can remember your ancestor, no matter which side they fought for. You can research prisoners from your state and write down their names. You can draw pictures of things that are special to your state that a Civil War soldier might know; like natural landmarks, animals or flowers. These stars represent life and not just tragic death. We ask that the stars not show weapons, violence or death and remain respectful to these brave soldiers. We encourage color and creativity in the Memory Stars. Decorate both sides of the star and please have each artist sign their name and the city and state where they live on one side.
Please do not mount or connect your stars before sending them to the park. Simply gather your stars loosely and mail them to the park in a flat envelope or box. Once they arrive they will be strung together and added to the temporary display at the National Prisoner of War Museum. When completed, send Memory Stars to                
 Andersonville National Historic Site               
c/o Memory Star Project               
496 Cemetery Rd.               
Andersonville, GA 31711 
How long do I have to send Memory Stars?
Memory Stars will be accepted through the end of the 150th anniversary of the Civil War. Collected stars will be placed on temporary exhibit at the museum through the end of 2015. Exceptional stars may be featured on the park's website, Facebook page or Twitter account. By submitting stars, individuals agree that the park may use the images or language for promotion of the Memory Star Project, the 150th anniversary, the National Prisoner of War Museum and Andersonville National Historic Site.
Why should we participate?
The Memory Star project is an excellent opportunity to discuss with your class, kids or community members the sacrifices and tragedies of war. It allows opportunities to explore history, literature, art, and memory. By participating in the project, you give students a physical connection to a difficult story and create a miniature work of art that will be seen by thousands of visitors over the next few years. Above all else, you become part of the story, and prove that these men are not forgotten.