Curricula
The American Civil War: A Humanitarian Perspective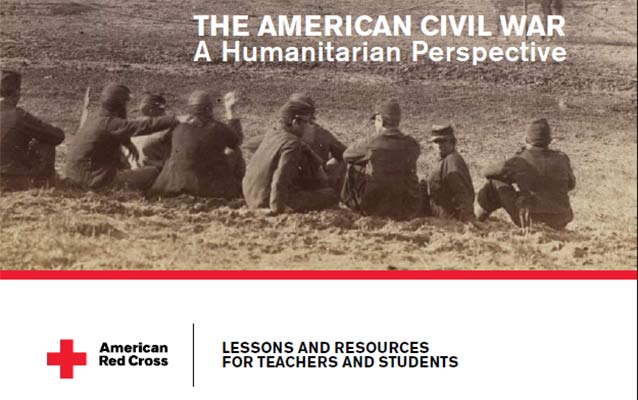 War has been around a long time. So, too, has the idea that suffering should be limited in war. For example, more than a century ago, Abraham Lincoln banned the Union Army from using torture and poison, and established rights for Confederate prisoners.
About The American Civil War: A Humanitarian Perspective
In commemoration of the sesquicentennial of the start of the American Civil War in 2011, the American Red Cross is pleased to offer these resources to help educators connect American history to humanitarian law and principles. The American Civil War: A Humanitarian Perspective is inspired by the Exploring Humanitarian Law (EHL) curriculum developed by the International Committee of the Red Cross (ICRC) and the Education Development Center (EDC).
The primary goal of EHL is to help students understand that even wars have limits and inspire them to perform humanitarian acts. Students learn that protecting vulnerable people in war is essential through a variety of teaching methods and key concepts such as human dignity, the role of a bystander, humanitarian acts, and moral and ethical dilemmas.
Learning about humanitarian law helps students connect lessons of the past with the issues of the present. Students will explore historical events through the lives of those who experienced the American Civil War and will participate in hands-on exercises that make for challenging and exciting class projects and discussions. The lessons will also help students develop critical thinking skills and character through understanding and embracing human dignity, humanitarian law and principles, and the importance of responsible citizenship.
These easy-to-use resources create learning opportunities for students by looking at (1) the roots of the American Red Cross through Clara Barton's tireless humanitarian work, (2) the development of key laws by President Lincoln which pre-date the first Geneva Convention of 1864, and (3) the basic principles of humanity, neutrality and impartiality, which are still fundamental to modern international humanitarian law.
The American Red Cross Civil War curriculum can be found at:
http://www.redcross.org/what- we-do/international-services/ educating-future- humanitarians/american-civil- war
Additional Resources
Details
Subject:

Civil War, History, Law, Military and Wartime History, Philanthropy/Humanitarianism, Public Policy

National/State Standards:

The EHL curriculum, including the Civil War units, has been aligned with national and state standards for social studies, English language arts, and common core.

type:

Curricula
Last updated: April 14, 2015