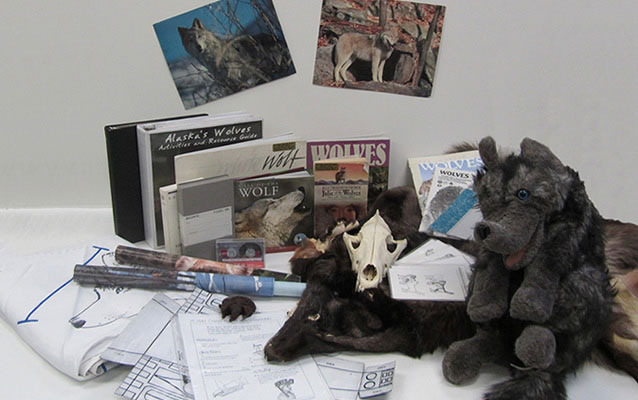 This kit from Alaska Department of Fish and Game includes activities, Native American stories, books, puppet, videos, posters, a wolf hide, skull and more! Prepared with the assistance of biologists and educators throughout Alaska, the kit is designed to be used at all grade levels.
Kit Includes:
Teacher's Activity and Resource Guide
Wolf Track Information
Arctic Wolf Anatomy
Wolf skull, hide, and track cast
Wolf puppet
13 wolf post cards
Materials and supplies for classroom activities
Canvas of life-size wolf
Moose hunt board game
The Wolf: A Howling In... video
A Pawnee Creation Story video
Wolf Talk audio cassette
Wolf calendar
Julie of the Wolves book
Beyond Little Red Riding Hood references

Wolves: Identification, Documentation, Population Monitoring & Conservation Considerations book
The Wonder of Wolves book
Wolves for Kids book
Wolf: A Year's Journey book
State of Alaska Hunting Regulations book
White Wolf book
Posters, brochures and much more!!!
Borrowing Instructions
Contact the center's Education Specialist at (907) 644-3670 to reserve this kit for your classroom. There is no charge and kits are usually loaned for 1-3 weeks at a time. Kits can be picked up at the visitor center.

Details
Subject:

Biology: Animals, Ecology, Environment, Wildlife Biology, Wildlife Management

Keywords:

wolves, wolf, Skull, wildlife, wildlife management

type:

Traveling Trunk
Last updated: April 14, 2015