Traveling Trunk
Marine Mammals Kit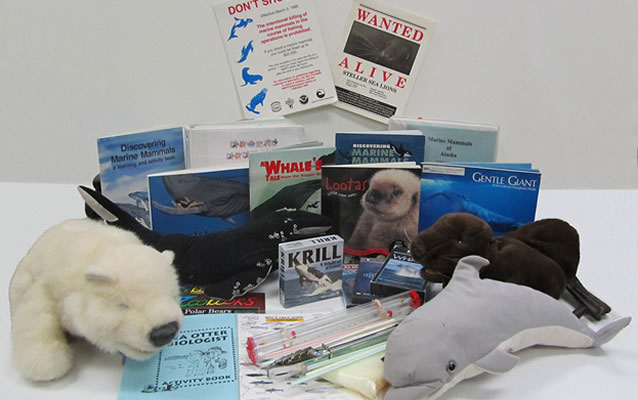 An education kit with books, posters, games, a video, puppets, and a curriculum guide about marine mammals in Alaska including whales, dolphins, porpoises, seals, walrus, polar bears and otters. This kit was developed at the Southeast Alaska Discovery Center in Ketchikan, Alaska.

Kit Includes:
Teacher's Guide

Lootas: Little wave eater - An orphaned sea otter's story book
Discovering Marine Mammals book
Discovering Marine Mammals: Learning and Activity Book
Whales In The Classroom Presents: Getting To Know The Whales
Whales For Kids
A Whale's Tale From the Super Sea
Zoobooks: Seals & Sea Lions, Polar Bears, Whales, Dolphins & Porpoises, Sea Otters
Sea Otter Biologist Activity Book
Gentle Giant book
Mac's Field Guide: Marine Mammals of North America poster
Puppets: Dolphin, Sea Otter, Humpback Whale, Polar Bear, Sea Lion
Krill: A Whale of a Game card game
Jean-Michel Cousteau: Gray Whale Obstacle Course DVD
Alaska's Coolest Animals DVD
Supplies for classroom activities
Whales: An Unforgettable Journey video
and much more!
Borrowing Instructions
Contact the center's Education Specialist at (907) 644-3670 to reserve this traveling trunk for your classroom. All kits are free and are loaned for 1-3 weeks at a time. Kits can be picked up at the visitor center; some can be mailed (teacher pays for return postage).

Details
Subject:

Aquatic Studies, Biodiversity, Biology: Animals, Marine Biology, Maritime History, Oceanography, Wildlife Biology

Keywords:

marine mammals, polar bear, walrus, whales, ocean animals, otters, seals, Sea Lions, dolphins, porpoise

type:

Traveling Trunk
Last updated: April 14, 2015