Traveling Trunk
Dinosaur Kit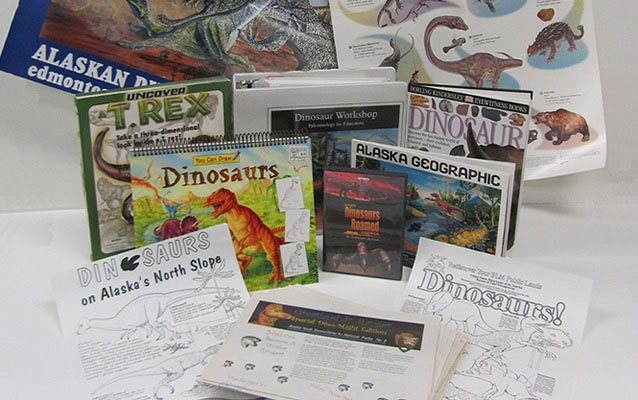 This kit introduces paleontology and the way fossils are created and uncovered, as well as theories on dinosaur anatomy, behavior, and more. The wealth of curriculum ideas in the teacher's guide alone makes this an exciting kit to teach as well as experience as a student.
Kit Includes:
Teacher's Guide and Curriculum Ideas/Lesson Plans
Fossils in Alaska National Park handout
Fossil Collecting & Artifact Hunting in Alaska brochure
Alaska Dinosaurs brochure
Dinosaurs on the North Sloop brochure
Beringian Research Notes: Woolly Mammoth, N. Am. Short-Faced
 Bear, American Lion, Jefferson's Ground Sloth, Am. Scimitar Cat,
 Giant Beaver, Ice Age Yukon and Alaskan Camels
Geological Time Line Bookmark
When Dinosaurs Roamed America's National Parks (DVD)
When Dinosaurs Roamed America (DVD)
Sue Guide (CD)
Dinosaurs Zoobooks
Newsweek-How Dinosaurs Lived
Fossil Ed Kit Notebook Guide from BLM Alaska
Alaska Geographic: Prehistoric Alaska book
Eyewitness Books: Dinosaurs
Prehistoric Treasures of the NP's of Alaska book
Dinosaurs and Dinosaur National Monument resource packet
You Can Draw Dinosaurs book
Uncover T Rex (3-D look inside T. rex!) book
Greatland Jr. Ranger Special Dino-Might Edition
Alaskan Dinosaurs poster
And much more!
Borrowing Instructions
 Contact the center's Education Specialist to bring this traveling trunk into your class curriculum at (907) 644-3670
Details
Subject:

Biodiversity, Biology: Animals, Earth Science, Paleontology

type:

Traveling Trunk
Last updated: April 14, 2015