Traveling Trunk
Climate Change Kit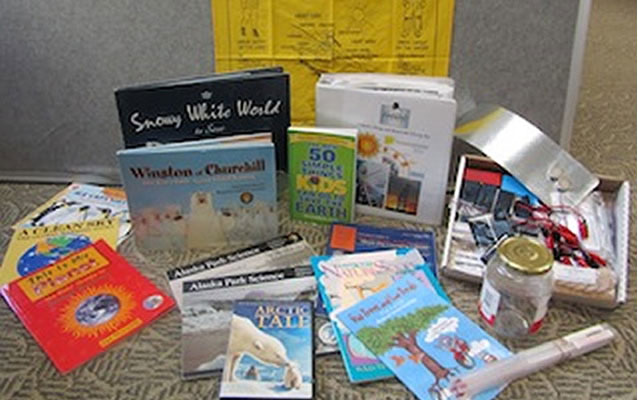 In this kit, students will build solar powered cars and learn how renewable energies work and how they can be used to lessen the effects of climate change. Activities on ice and ocean dynamics help to explain potential sea level rise and how the planet's climate system works to keep the planet cool. the kit contains Internet resources and PowerPoint presentations as well as additional curriculum to help you and your students become climate change and renewable energy experts!
Kit Includes:
Polarpalooza Curriculum (ice dynamics, water cycle, albedo effect)
Solar box cooker
Solar car classroom kit (10 cars)
Wind turbine
Tree cookies
How We Know What We Know About Our Changing Climate book and teacher's guide
This is My Planet: Kid's Guide to Global Warming book
Gas Trees and Car Turds: Roots of Global Warming book
The Down-to-Earth Guide to Global Warming
NatureScope: Pollution Problems and Solutions book
Alaska Park Science: Crossing Boundaries in a Changing Environment book
Alaska Park Science: Scientific Studies on Climate Change in Alaska's National Parks book
Snowy White World to Save-Polar Bear book
Winston of Churchill: One Bear's Battle Against Global Warming book
Why are the Ice Caps Melting? book
A Clean Sky: The global warming story book
50 Simple Things Kids Can Do To Save The Earth book
A Hot Planet Needs Cool Kids
NOAA at the Polars: International polar Year video
Penguin Science video
Arctic Tale video
Polar Explorers Card
Sea Ice Card
Solar Panel Game Card
Ice Core card
Various materials and supplies needed for classroom activities
Plus a variety of handouts, brochures and much, much more!
Borrowing Instructions
 Contact the center's Education Specialist to bring this traveling trunk into your class curriculum at (907) 644-3670
Details
Subject:

Climate, Climate Change, Earth Science, Economics, Environment, Meteorology, Science and Technology

type:

Traveling Trunk
Last updated: April 14, 2015