Public Use Cabins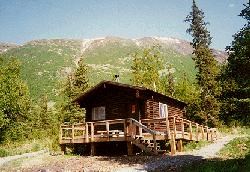 Cabins have "rugged" accommodations: usually a heating stove, bunks/sleeping platforms, table and chairs, and an outhouse. You are responsible for providing your own food, cook stove and cooking utensils, water, and bedding. Access to cabins is by plane, boat, trail or a combination of these. You are on your own for arranging transportation to and from the cabins. Usually a list of operators permitted to provide services within the public land unit can be obtained from the managing agency.

Most cabins are used year round although usage may be strongly discouraged during certain times of the year. Alaska's weather can delay your trip at any time of year, so plan accordingly in regards to extra food, provisions and pick-up plans. For any travel in Alaska's backcountry, you are responsible for your own safety; be prepared with survival skills and proper equipment.

Generally, cabin permits are issued on a first-come, first-served basis for noncommercial purposes to anyone over 18 years old. However, because of high demand, agencies may incorporate a lottery system.
Click here for more information on cabins and locations.

The links on the right provide basic information as well as contact numbers and addresses for the five land management agencies currently renting public use cabins in Alaska.


Last updated: December 22, 2015