Date:
October 14, 2018
Contact:
Lisa Nielsen
, 830-775-7491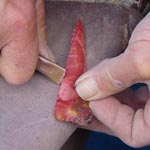 2018 Archaeology Fair
From Friction Fire Starting to Blacksmithing, 
the 2018 Archeology Fair turns back time.

The 2018 Archeology Fair will take place from 10:00 am to 3:00 pm on Saturday, November 3, 2018 at the Whitehead Memorial Museum, 1308 S. Main in Del Rio. Amistad National Recreation Area and the Whitehead Memorial Museum invite local communities, adults, and children to celebrate and learn about the history of southwest Texas.

The 2018 Archeology Fair welcomes back many popular presenters and activities, including some from more distant areas of Texas. The Bexar County Buffalo Soldiers Association will again bring past military units to life. Pause to watch the ever interesting blacksmithing and flint knapping demonstrations as well as the wool spinning and prehistoric musical instruments demonstrations – absorb the skill that each of these prehistoric and historic activities involved. Become an archeologist and try your hand at a simulated archeology dig. Practice your hunting skills using the rabbit stick, design and make your own rock paintings (pictographs) and grind corn and mesquite beans as it was done historically. Hand make pinch and coil pottery with La Casa de la Cultura and try your hand at loom weaving and wool carding.

Living history presenters from Traylor Livery in Sonora will share pioneer life with fair-goers. Various pioneer games will also be on hand to try your skills. Learn about the construction and use of prehistoric earth ovens and watch as Park Archeologist Jack Johnson demonstrates friction fire-starting. New to this year's Archeology Fair will be an exhibit and demonstration on the historic uses of local plants.

Take a trip back in time as you wander the beautiful grounds of the Whitehead Memorial Museum – watching and trying your hand at skills needed, honed and used in the past – as they are brought to life in front of your eyes. 

This special event is sponsored by the National Park Service (Amistad National Recreation Area) and the Whitehead Memorial Museum with the help of many others, including the Ramada Inn, La Casa de la Cultura, the Shumla School, Seminole Canyon State Park and Historic Site, the Judge Roy Bean Visitor Center, the Val Verde County Fairgrounds – and many local volunteers. Admission to this event is $2.00 for adults and $1.00 for children.
 
For more information, please call Education Technician Amanda Curtis at 830-775-7491 x 3211 or Education Specialist Lisa Nielsen at 830-775-7491 x 3223.