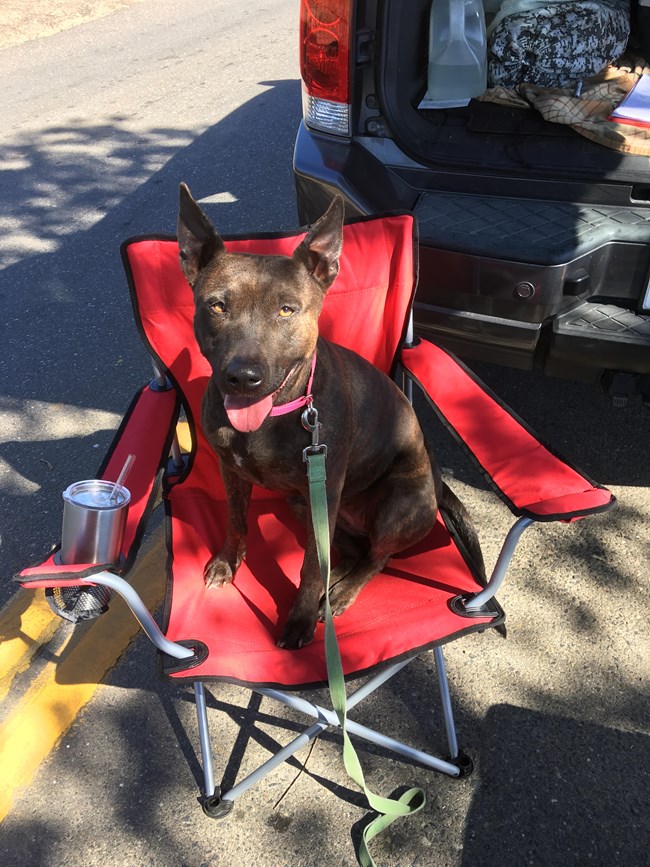 The threat of Amistad National Recreation Area being invaded by nonnative quagga and zebra mussels is real. To protect the reservoir from these invasive species, resource management staff from Amistad National Recreation Area are using a multi-prong tactic to guard against the mussels: conducting boat inspections, searching for the visual presence of these invasive mussels; ensuring that there is no standing water in the boats; and informing and educating the public about the threats posed by the ecologically harmful aquatic invasive species. This month, the resource management staff will be getting additional back-up from Pearl, the mussel sniffing dog.
Pearl is a detection canine from "Mussel Dogs" and she has been trained to search boats for the presence of quagga and zebra mussels. If Pearl smells the presence of either type of mussel, she will alert her handler by sitting near the spot where she smelled the mussels. Canines can complete a boat inspection in a fraction of the time that it takes for a person to complete the same inspection.
Pearl, the Mussel detection canine, and her handler will be at Amistad National Recreation Area from June 21 through June 26 assisting park staff with boat inspections at various boat ramps. On Satuday, June 24
th
the park will be hosting a demonstration of Pearl performing boat inspections and the public is invited to come out to to see her at work. This demonstration will be held at the Diablo East boat ramp throughout the day.
If you have any questions, call Joanny Guindin (830)775-7491 ext. 3206.