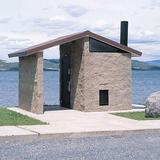 The Rock Quarry and 277 South are stand-alone facilities located several miles away from any other park facilities, making vault toilets the only viable option. Replacing two chemical toilets at these locations with handicapped-accessible vault toilets would include the excavation of the vault toilet locations, installation of vault toilets and minor site landscaping.
There are currently two chemical toilets at the Rock Quarry Group Campground and one at the 277 South boat ramp. Replacing these units with vault toilets would improve accessibility for the park's handicapped visitors, reduce maintenance operations through greatly reduced pumping frequency, and mitigate potential spill hazards associated with chemical toilets.
Completion of this project would result in immediate operational cost savings to the park. It would also provide a more reliable waste management process at both locations reducing the possibility of spills from severe weather events and vandalism. The maintenance staff has cleaned up many spills resulting from vandalism (turning the chemical toilets over) and extremely severe weather events. Vault toilets would improve visitor satisfaction at both locations.