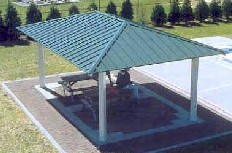 The shelter at the 277 North Group Campground is 26 years old. The original shelter was destroyed in early 2006 during severe storm that may have produced an F1 tornado. The entire structure was picked up and moved approximately 250 yards. The new structure is specifically designed as a single span building constructed of steel. The components of the building are factory powder coated for a durable, limited maintenance finish. This asset should have a life cycle of approximately 35 years when completed.
This a large group picnic shelter in the group campground of 277 North. It is a very popular facility and is booked on every weekend holiday with exception of Christmas and New Years. It is also booked on most regular weekends throughout the year. This asset is especially important to our local visitors for large family gatherings.
Completing this project will conserve park resources and maintenance dollars.