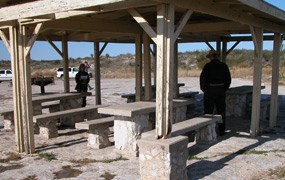 The Rock Quarry Group Campground is a very popular stand-alone facility on the west side of the Highway 90 bridge overlooking the lake. It offers campers a small courtesy/fishing dock and two large barbecue grills. The current pavillion at this location is constructed entirely of wood. The replacement pavillion at the Rock Quarry will be all metal. The replacement shelter will be purchased from a GSA contract provider. It is predesigned, ready to assemble and approximately 748 square feet.
The current shelter is 33 years old and still has the original roof. The roof is in poor condition and is leaking. This is causing structural damage to the shelter. Additional damage to the structure has been caused by termite infestation. Replacing the structure with an all metal facility in this climate would be a much better investment. There is no other facility like this in the park.
Replacing the wood structure with a metal one would save park resources and maintenance dollars. This project would allow the continued use of a large pavilion at the Rock Quarry Group Campground.