Howard Rummel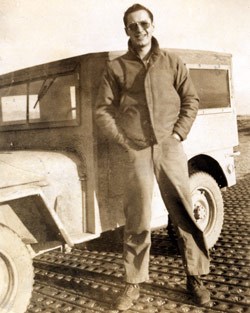 Howard Rummel prefers to be known as Howard Erwin Rummel to distinguish himself from the famous German Field Marshal commonly referred to as the "Desert Fox" whose name was Erwin Rommel. He served on NAS Attu from September 1944 through January 1946. Learn more about his tour on Attu through photos below.
View other contributions from Howard Rummel's:
SOMEWHERE IN THE ALEUTIANS
De rain she's come down, not hurricane style,
Jus' patter a bit, den stop for a while,
But don't let it fool you, recruit from de states,
For everything comes to the fellow who waits.

Jus' las' April I'm go out for hunt de wil' fox,
I'm carry dat rifle, and have on dry sox.
I'm six mile from camp on a bright sunny day,
Lak de snow in de spring, she's scon pass away.

De rain come in torrents, and den come in sheets,
I'm wish for canoe, and also for eats,
For de fox dey are drown, and flour she's wet,
And de trak, she is look
Lak a river, you bet.

So I'm straddle a duck board from a far away camp,
I believe what I hear, this isle is damp.
Tree days and tree nights, I paddle for shore,
And finally at las', I can't pull anymore.

I'm stop and I'm tink, why that camp was right here,
And den in a flash, de whole ting become clear.
I'm look two, tree time, but she's no mistake,
Put high and dry camp, she is now one big lake.

Now you see what I mean when I say stick around,
Tie yourself to de bunk and de bunk to to de ground,
For dis rain is no mild little dew,
In a month or so, you will find dis is true.

You will say that my story is nothing but lies,
Jus' remember, I tol' you, and don't be surprise
If de tent she is dry when you first hit de bed,
And nex' morning she's floating lak seaweed instead.

--Anonymous--
Victory Dispatches
CINCPAC - CINCPOA VICTORY DISPATCH
"Fleet Admiral C. W. NIMITZ transmits to new Pacific Fleet and Pacific ocean area with the greatest satisfaction and pride the following message from SecNav: My warmest congratulations on the successful complettion of a great task. Please send to the commanders of the fleet and forces throughout the Pacific and all hands in their commands my personal congratulations and the deep pride which America has in their accomplishments. Let us keep in reverent recollection the memories of those of our comrades whose sacrifice has given us our freedom. James FORRESTAL"
* * * * * *

CINCLANT VICTORY DISPATCH
"CincCPac has received the following message from CinCLant: Heartiest congratulations to you and the officers and men of your command on your dramatic successes culminating on this memorable day in complete victory. Your operations in the Pacific against our bitter enemy will be recorded as the--most brilliant in history. We of the Atlantic salute you."
* * * * * *

COMINCH AND CNO VICTORY DISPATCH
"To the men and women of the United States Navy, United States Marine Corps, and the United States Coast Guard. The day of final victory has at last arrived. Japan has surrendered. Her fleet which once boasted that it could drive us from the seas has been destroyed. The United States Naval services played a major role in the mighty triumphs; therefore we observe this hour with a special pride and satisfaction in our achievements. Expecially[sic] do we remember the debt we owe the thousands of our comrades of the Navy, the Marine Corps and Coast Guard who are absent today because they gave their lives to restablish a world in which free peoples might live. Our sympathies go out to their relatives and friends. At the same time we extend thanks and appreciation to our companion services of the Army and to the gallant allies who fought beside us and to the millions of people on the homefront who supported us with their labors and their prayers. It is as a team we have worked and fought to the victorious conclusion of the war. As a turn now from the vital times of war, I call upon all members of the Naval service to dedicate their efforts with the same courage devotion to duty and united spirit to the work of resulving[sic] the great problems of peace. Only by so doing can we fulfill our obligations in preserving the freedom which has been gained at such great cost and effort. I am proud to have served with everyone one of you. Signed, Ernest J. KING, Fleet Admiral, United States Navy."
* * * * * *
Last updated: August 1, 2018