Clifford McGinnis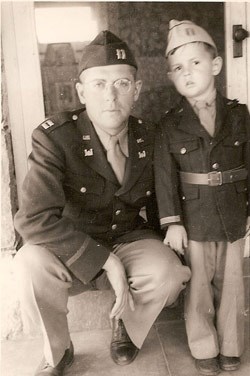 Clifford McGinnis served in the ROTC at the University of Iowa earning a degree in Electrical Engineering. In June of 1942 he was ordered to service with the Army Corp of Engineers. He served at a number of bases on the US mainland in various capacities and ended up at Amchitka in December 1944 where he served as Commanding Officer for the Engineer Detachment. He was responsible for over 1000 military and civilian employees constructing docks, roads, hangars, runways, barracks, warehouses, power generation plants, water supply systems, sewage disposal and other facilities and systems necessary to run a base. After 13 months on Amchitka he returned to Ft. Leavenworth Kansas where he was discharged from active duty. He achieved the rank of Lt. Colonel in 1953 under the US Army Reserve.
Through photos learn more about Clifford McGinnis' tour of duty on Amchitka Island during World War II. You can also read a letter he wrote to his sweetheart in late May, 1945 and a copy of the
story "Battle of the Aleutians,"
which commemorates the actions in the campaign by the Intelligence Section, Field Force Headquarters on Adak, and reproduced by the 29th Engineers. Appended to the story are Clifford's discharge papers.
31 May, 1945

ALEUTIAN LETTER
Hello, Sweetheart, Remember me?
I am the guy you used to see
Around the house at end of day
Who helped you pass your time away.
I'm going to take a little time
And try to put some words to rhyme
To spend my time with you today
Altho I don't know what I'll say.
Depends upon the mood I'm in
And where I am when I begin.

It seems ther's never much to say
With you so very far away
And life out here so much the same
With no exploits with claim to fame
To pour out for your eager ear
The type of news you'd like to hear.

The weather here today was just
A bit of rain, a spot of dust,
A peep of sun, a blotch of snow
And then the never ending blow
Of our gusty Island breeze
Which blows in from the Bering Sea
And meets with the Pacific Wind
Which promptly blows it back again.

Let's see, what did I do today?
Well now, that would be hard to say.
I didn't win the war alone
Or fight in any battle zone,
But just performed the routine chore
Of life upon this lonely shore.
I cannot be much more specific
From this outpost between Pacific
And the frigid Bering Sea
or someone would then censor me
And say that I should not have told
Why even here the young grow old
More Quickly than their years fortell
Despite the fact their health dwell
And that their clothes are of the best
With lots of time for sleep and rest
And that the food we get to eat
Is so good it can't be beat-
That is, unless it's cooked by you
In which case I could eat cold stew
And think it beat the finest steak
Or juicy roast our cook could make.

But let us not think of such things
As that is what so quickly brings
That sadness of the heart and soul
Which early takes its heavy toll
Of hair which grows both thin and gray
With each slowly passing day.

It's not the heat which gets a man,
For here there's no such things as tan,
Nor yet the cold which chills the skin
And keeps the body poisons in,
Nor wind or rain or blinding snow-
Or lack of any place to go,
But rather I am prone to say
It's 'ea use YOU are so far away
And life upon this weary Isle
Is lacking of your Cherry Smile.

If you were here to hold my hand,
I'd think this was the promised land,
And days which now seem dark and gray
Would quickly seem both bright and gay.
But since fate keeps us thus apart
I sent this prayer straight from the heart
"MAY GOD PROTECT YOU EVERY DAY
AND KEEP YOU SAFE WHILE I'M AWAY"

By
Cliffort F. McGinnis
Capt CE
Last updated: March 15, 2018