Walter Dalegowski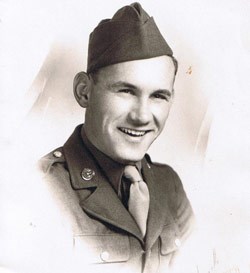 Sergeant Walter Dalegowski (formerly of Erie, Pa) served as a flight mechanic on P-38s attached to the 54th Fighter Squadron, 343rd Fighter Group, 11th Army Air Force. He was stationed on Amchitka, Adak and Attu from May 1943 thru Sept 1945. He received training at the Lockheed Plant in Burbank, California and was witness to the maiden flight of the Lockheed Super Constellation on Jan 1, 1943. After being discharged he returned home to Erie and eventually settled in Arizona where he lived until his passing on Jan 29, 2011.
Walter's sons David and Mark graciously donated photos from their father's collection and a copy of the
54th Fighter Squadron yearbook
.
Last updated: March 15, 2018