Robert Buchanan
Bob was serving an apprenticeship in a machine shop in Ohio when he signed up as an Aviation Machinists Mate for the Navy. Little did he know that an AMM in the Navy was an aircraft mechanic! He trained in PBYs and was assigned to VP-61 on Attu and Amchitka and then went on to the South Pacific. With VP-61 Bob flew dozens of missions to the Kurile Islands and lived to tell about them. A PBY he flew in the Aleutians is now at the Palm Desert Air Museum – still a functional, flying aircraft, with Bob's name penciled in the tower.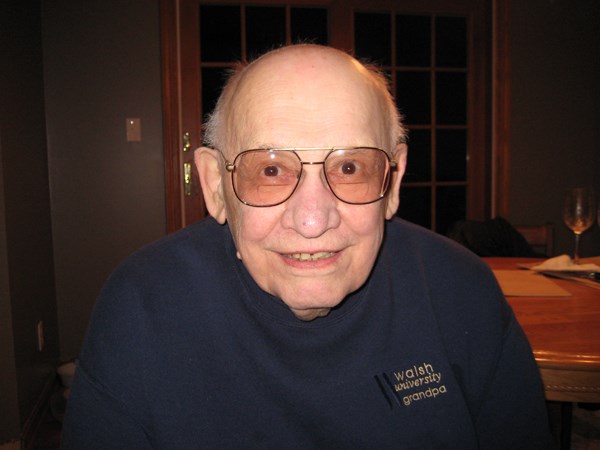 Complete audio interview (32 MB) -- Left-click the link once to begin streaming the interview. This may take just a few moments for fast connections, or several minutes for dial-up connections.

Right-click the link and choose "Save link as ..." to save the file to your desktop. This could take considerable time, even for broadband connections.
The interview is also available in smaller portions, with the relevant transcript available for each clip. Each audio clip is less than 1 MB, facilitating access for slower internet connections.

Transcript summary

Growing up in Barberton, Ohio; location of family members audio / transcript


Acquiring an interest in aviation; mistakenly signing up to be an aviation mechanic in the Navy; boot camp and Navy training at a radar operator's school; for Aviation Machinist's Mate and assignment to Whidbey Island Naval Air Station with a PBY squadron audio / transcript


Enlisting in the Navy; deferment; working at the Goodrich plant; age at enlistment, Aviation Machinist's Mate training in a public school in Chicago; radar operator's school in Tennessee; aerial gunnery and air operations school in Florida; assignment to VP-61; dates of service at Attu and Amchitka; service in the South Pacific after Alaska audio / transcript


Getting to Attu via Kodiak; Dutch Harbor and Adak audio / transcript


Crew assignments; flying with the same crew; names of crew members; morale of crew; pilot J.W. Trout; status of other crew members; who kept in touch over the years audio / transcript


Commanding officers in Alaska; disappearance of Frank Woody; crew loss rate in VP-61; speculation on what happened to two lost crews; nature and number of missions flown to Kurile Islands audio / transcript


Nearly hitting a Japanese plane in the fog over the Kurile Islands; station in the tower of the PBY; taking a turn flying the airplane audio / transcript


Getting the plane ready for departure; story about finding picket boats near Kurile Islands on radar; flying over the Kamchatka Peninsula and being fired on and chased off by Russians, living with PV squadrons on Attu; recreation on Attu audio / transcript


Flying in bad weather; durability of PBY; deciding if the weather was suitable to fly; Commodore Gehres; early morning departures to the Kurile Islands; lack of fear of flying audio / transcript


Interview with psychiatrist at NAS in Seattle; age of pilots relative to flight crew; Whidbey Island land and seaplane bases; rehabilitation leave audio / transcript


Assignment to the South Pacific after the war; flying for Admiral McCann with high ranking personnel to assess how much equipment and materials were left behind for sale to the Dutch; considering re-enlistment in the Navy, offer for an increase in rank to re-enlist; returning home; meeting future wife; profession following the war with Goodrich audio / transcript


Description of the tower area of the PBY; working multiple jobs in the PBY; Palm Springs Air Museum acquires a PBY with Buchanan's name written in the tower; book written by a crew man's brother about the PBY air crew; inaccuracy of some of the books about the Aleutians audio / transcript


Description of the tower in the PBY; duties while stationed in the tower; contact with the cockpit from the tower audio / transcript


Night mission of unmarried men to Paramushiro; Chaplains issuance of last rites audio / transcript


Commodore Gehres and the ship; Ben Franklin; Gehres' control over squadron decision making; Gehres cow that supplies him milk audio / transcript


Length of flights to Paramushiro; heating coffee on a Coleman burner in the PBY; gear worn to ward off cold in the PBY; giving away warm flight gear to an Army soldier before leaving Alaska audio / transcript


Living conditions on Attu and Amchitka discussed; recreation on Amchitka; atom bomb releases on Amchitka after WWII audio / transcript


Flying back to the states in a Naval Air Transport plane; number of crews and planes in the Aleutians at the end of the war; how crews were assigned to aircraft during the war; praise for the PBY, weather in the Aleutians; getting used to poor flying weather and turbulence; boredom; lack of trees in the Aleutians; wildlife in the Aleutians; Aleuts audio / transcript


Fishing for halibut and salmon; cooking salmon on an oil burner in the Quonset hut; stream thick with salmon near the camp audio / transcript


Article in Flypast about the PBYs of WWII; figuring out the military number for the PBY at Palm Springs Air Museum; Buchanan finds six PBYs he's flown in are in museums; number of times each plane was flown audio / transcript


Logging flights by bureau number; pilot Skidmore helps figure out which bureau number was attached to the Palm Springs Air Museum PBY; ground crew role in aircraft maintenance; helping ground crew attain increased pay for flight hours (flight skins); frequency of required aircraft maintenance; working on aircraft in hangars on Attu
revetments on Attu and Amchitka audio / transcript


Trying to remember 145 men in the squadron; Joe Heldorfer, Chester Brukus, Bob Custer, Jewett audio / transcript


Enlistment centers named as towns of origin; getting parents to sign his paperwork to enlist; receiving a draft notice from the Navy after enlistment; repealing deferments, commendations and awards; tailor made uniforms; table of flights conducted in PBY's housed in museums across the globe audio / transcript
Last updated: November 16, 2017