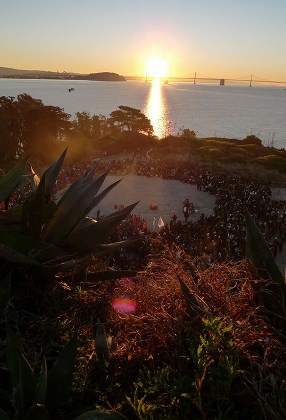 The National Park Service provides two educational overnight opportunities Native American youth because of the historic connection Native Americans have to the two annual Indigenous People's Sunrise Ceremonies. Youth spend the night on the island to learn about this connection and to help prepare for the next day's ceremonies.


To apply for the Native American Overnights, send the following information to: Alcatraz, Fort Mason Bldg 201, San Francisco, CA 94123. ATTN: Youth Overnight Program. Or email e-mail us with the Subject Line: Native American Youth Overnight Program.
Affiliation of group.

Educational reason for hosting overnight

Preferred overnight (night before Thanksgiving Day or Columbus Day),

Contact information including phone and email
Applications are due September 15 each year. If more than two groups apply, two groups will be randomly selected. Groups that have never attended an overnight will receive priority over groups that have.