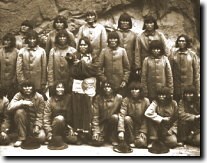 Hopi History: The Story of the Alcatraz Prisoners
Wendy Holliday, Historian Hopi Cultural Preservation Office
One hundred years ago, in September 1895, 19 Hopi men from Orayvi (Oraibi) returned home after spending nearly a year imprisoned on Alcatraz Island. This article is the first step in an ongoing project to commemorate the 100th anniversary of their release and to document and record Hopi testimony about central events in Hopi history.
The story of the Alcatraz prisoners is one episode in an ongoing struggle between the Hopi people and the United States government. The late nineteenth century witnessed increased attacks on Hopi sovereignty and culture, as the United States government acted to "Americanize" the Hopi people. Imprisonment became the government's principal means of intimidation and punishment.
The U.S. government wanted to "Americanize" the Hopi by indoctrinating them with Anglo-American ideals and extinguishing Hopi culture. The education of children was the centerpiece of a U.S. government policy of Manifest Destiny, and it was fiercely resisted by Hopi people.