News Release
Solstice, Shooting Stars and S'mores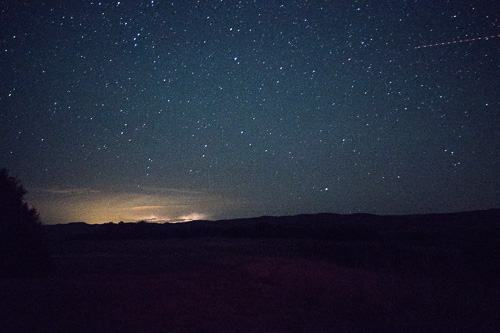 News Release Date:
December 7, 2017
Contact: AJ Legault, 308-668-2211
Contact: Alvis Mar, 308-668-2211
Solstice, Shooting Stars and S'mores Set the Stage for the Winter Night Sky Program at Agate Fossil Beds National Monument
Harrison, NE: On December 16, 2017 from 5:30 – 7:30 p.m. Rangers Alvis Mar and Tony Mincu will take visitors on a tour of the amazing Winter Solstice night skies at Agate Fossil Beds National Monument. Learn about the Winter Solstice, multicultural interpretation of the stars and the night sky. Also the Geminid Meteor Showers will be visible. Tips about night sky photography will also be available.
The visitor center will be open from 8 a.m. until 7:30 p.m. on December 16. Starting in the visitor center at 5:30 p.m. the rangers will lead a discussion about the Winter Solstice, Shooting stars and the multicultural interpretation of stars and the night sky over the centuries. Then view the celestial objects in the sky, receive tips on night sky photography from Tony Mincu and finish the evening by 7:30 p.m. with S'mores.
Visitors are encouraged to be prepared for an excellent night time learning experience by dressing for the weather, bringing their camera and a tri-pod, and a flashlight. A red balloon, provided by the park, will allow use of a flashlight to see but not hamper night vision. Spend some time with your camera before the program to learn where your camera's manual settings are located and how to attach to a tripod.
Tony Mincu is a Renaissance man, former Paramedic, Police Prosecutor and Town Manager in various mid-sized towns. He graduated from the College of the Holy Cross in Worcester, Massachusetts with a BA in History. He returned to graduate school 20 years later and earned a JD (Juris Doctor) from the University of New Hampshire. Mincu has a passion for history, old things, and anything having to do with the outdoors, as well as photographing everything he sees in nature, including the night sky.
Alvis Mar, Lead Interpretive Ranger, has worked in several national parks over the years including Yosemite, Great Smoky Mountains and the NPS Midwest Regional Office in Omaha. Because Mar grew up in a light polluted city, he has always enjoyed the amazing night skies in national parks.
Agate Fossil Beds National Monument is located just 22 miles south of Harrison, or 34 miles north of Mitchell, Nebraska, on State Highway 29, then east on River Road for three miles to the visitor center. The visitor center is open from 8 a.m. to 4 p.m., daily.  The park's two trails are open from dawn to dusk.  Admission to Agate Fossil Beds is free. For more information, call 308-668-2211, go to www.nps.gov/agfo or visit Agate Fossil Beds on Facebook and Twitter.
 
About the National Park Service. More than 20,000 National Park Service employees care for America's 417 national parks and work with communities across the nation to help preserve local history and create close-to-home recreational opportunities. Visit us at www.nps.gov, on Facebook www.facebook.com/nationalparkservice, Twitter www.twitter.com/natlparkservice, and YouTube www.youtube.com/nationalparkservice.
Last updated: December 7, 2017