Cooperating Association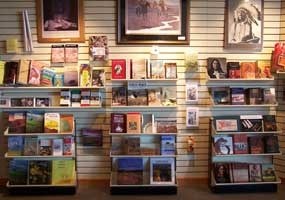 Cooperating Associations developed early in the National Park Service's history to provide items and services not available through the use of federal funds. Their primary function continues to be the support of park interpretive and related visitor service activities.
Cooperating Associations operate small bookshops or sales areas within park visitor facilities, carrying literature and other items which assist the public in understanding parks and their related themes. Sales proceeds are used to sponsor various activities that support park programs.
Oregon Trail Museum Association (OTMA) operates book stores at both Agate Fossil Beds National Monument and Scotts Bluff National Monument. One of the many interpretive programs that they help with is Boxing Day, December 26th, reminiscent of gatherings held at the Agate Springs ranch house in the 1970's.
OTMA memberships are available by contacting Oregon Trail Museum Association, Box 27, Gering, NE 69361 or by calling 308-436-9715 or at the information desk in the visitor center.
Membership benefits include: Subscription to OTMA newsletter, attendance at annual membership meeting, having a say in the OTMA decision making process and a discount on OTMA sales items.
Last updated: April 10, 2015