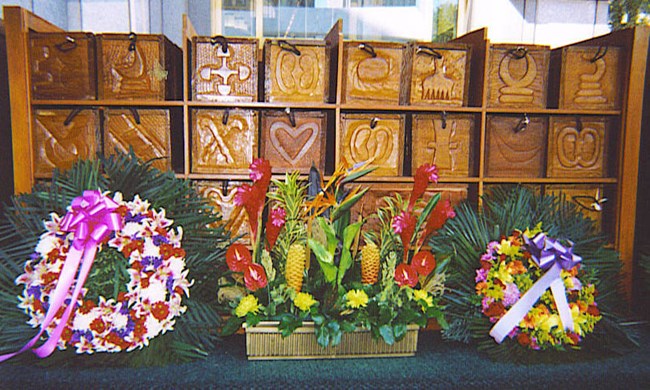 Celebrating the African Ancestral Heritage
Remember the Journey October 4-5, 2018
In 1991, skeletal remains were discovered and unearthed during excavations for a federal building in lower Manhattan. After eighteen months of struggle by the descendants of enslaved and free Africans, the General Services Administration ensued to have the 419 excavated remains biologically and culturally studied by scientists at Howard University, to be re-interred in their original resting place on October 4, 2003.

On October 5, 2007, the outdoor memorial of the National Monument was dedicated and now stands as a testament to a tragic history and a victory for not only descendant communities, but for people and nations everywhere.

Join the National Park Service as we once again honor the strength and resilience of the ancestors.
Flyer
News Release
Thursday October 4
15 Anniversary of Remains' Reinterment
• 10:30 AM Performance by Casplash
• 11:05 AM Libation: Cyril Innis, Jr.
• 11:25 AM Keynote: Reverend Dr. Herbert Daughtry, House of the Lord Church
• 11:40 AM Performance by V.K. Pearson "Sis Kenya"
• 12:30 PM Screening: African Burial Ground: An American Discovery, with Q&A to follow.
• 12:30 PM Performance by Fusha Dance
• 6:30 PM Panel Discussion: Examining the Findings at the NY African Burial Ground
Facilitated by: Dr. Sherrill D. Wilson, Founding Director of the ABG, Office of Public Education and Interpretation
Panelists: Dr. Fatimah Jackson, Biologist (Howard University)
Dr. Jean Howson, African Burial Ground (ABG) Project Archaeology Co-Director
Dr. Michael Gomez, Historian (New York University)
Friday October 5
11 Anniversary of Memorial's Dedication
• 10:30 AM Performance by Casplash
• 11:05 AM Libation: Cyril Innis, Jr.
• 11:40 AM Performance by V.K. Pearson "Sis Kenya"
• 11:30 AM Adinkra Face Painting
• 1:30 PM West African Drumming Class
• 2:30 PM Ted Weiss Building Art Tour
• 3:30 PM Screening: Then I'll Be Free to Travel Home
• 4:30 PM Performance by Cumbe Dance
• 6:00 PM Lecture: Peggy King-Jorde, Memorialization Director The Road to Memorialization
• 7:00 PM Lecture: Rodney Leon, Design Architect The Construction & Symbolization of the Memorial