Welcome to the Schoodic Education and Research Center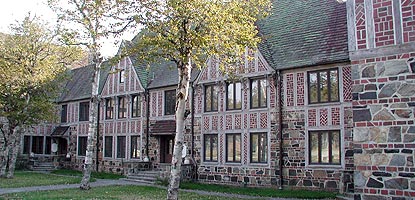 Cooperative Management
The Schoodic Institute is a nonprofit organization dedicated to supporting the Schoodic Education and Research Center of Acadia National Park. The Schoodic Education and Research Center is one of about 20 National Park Service research learning centers in the United States, and is the largest of all these facilities. The mission of the Schoodic Institute is to guide present and future generations to greater understanding and respect for nature by providing research and learning opportunities through its outstanding Acadia National Park setting, unique coastal Maine facilities, and innovative partnership programs. The overarching vision for SERC is to become a world-class research and learning institution, providing knowledge and transformational experiences necessary for harmony between humankind and the natural world.
The Schoodic Institute and Acadia National Park have worked together to create a unique research learning center dedicated to supporting the scientific research in the park, providing professional development for teachers, and educating students to become a new generation of stewards who will help conserve our natural and cultural treasures.
These centers are designed to expand the role of research within our national parks; allow for more informed, science-based management decision-making; and share research results with researchers, local communities, students, educators, and the public. Within Acadia National Park, SERC staff help facilitate research projects throughout the park and, when the results are available, provide opportunities for learners of all ages to discover the park's natural and cultural resources through this research.
The goals of SERC are to:
facilitate interdisciplinary research that enhances the understanding of the natural and cultural resources of the National Park System and related research at the regional, national, and international levels;
develop innovative education and stewardship programs designed to translate science into learning for people of all ages and abilities;
support collaboration and outreach among partners to promote science and learning; and
provide access to a repository of information and other resources for educators and researchers.
The Schoodic Education and Research Center campus is located just outside the village of Winter Harbor, Maine. The campus includes varied facilities, from meeting and classroom space to lodging and recreational facilities. Its scenic setting on the rugged coast of the Atlantic Ocean offers easy access to coastline habitat, intertidal zones, and spruce/fir forests, and provides an ideal environment for both research and learning.