For Kids

Junior Ranger Program


Take a Ranger-Narrated Boat Cruise

Four different park-ranger narrated boat cruises are offered during the season. Touch real sea life brought up from the ocean floor; search for seals, porpoises, and bird life; and explore island life and maritime history. Cruises vary from 2 hours to 4.5 hours.

Visit the Nature Center

Hands-on exhibits to help you uncover the secretes behind how the park manages its plants and animals. What kinds of birds are found in the park? In which habitat can you find snakes or frogs? Visit the Nature Center at Sieur de Monts Spring to find out.


Play in the Sand

Sand Beach is one of only two sandy ocean beaches on Mount Desert Island. If the water there is too cold for you, only 55 F (13 C) at best, try Echo Lake Beach on Route 102 north of Southwest Harbor.

Go for a Hike or Bike Ride

The park has 125 miles (201 km) of easy to strenuous trails for hiking and 45 miles (72 km) of winding carriage roads for walking or biking.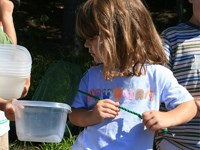 Children's Bill of Rights
Videocast - Windows (3.36 MB)
Duration - 1 minutes 23 seconds

What are 10 easy and fun things every child should experience at Acadia? Watch this short video to find out!


Last updated: February 26, 2015