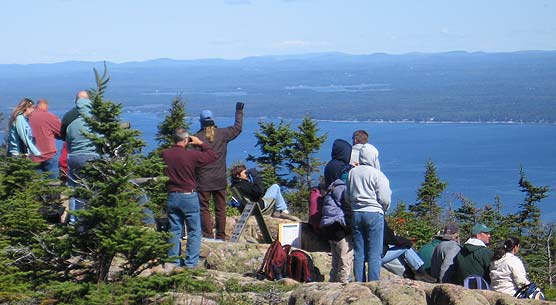 News Release Date:
January 12, 2007
Contact: Marc Neidig, 207-288-8803
Contact: Cynthia Ocel, 207-288-8822
Acadia National Park is currently accepting applications for internships in education and raptor interpretation.
Education interns work with park staff in preparing and presenting curriculum-based programs for third- through eighth-grade students in their classrooms and in the park. Programs have established themes and objectives that focus on natural science or history. Spring positions run from April to June. Fall positions take place in September and October. Longer fall internships are also available with Acadia's residential program on the Schoodic Peninsula. Qualified applicants will relate well to children between the ages of eight and thirteen, and enjoy the physical and mental demands of teaching outdoors. For more information or to apply, contact Cynthia Ocel at 207-288-8822 or via e-mail.
The raptor internship runs from mid-May to mid-October with possible short seasons available in the summer and fall. From mid-May through mid-August the raptor intern interprets the activities of peregrine falcons at the Precipice, a falcon nesting site since 1991. From late August to mid-October the intern identifies, documents, and interprets migrating raptors from atop Cadillac Mountain at 1,530 feet. The raptor intern engages thousands of visitors at these two sites, interpreting the natural history and conservation measures regarding raptors, as well as monitoring and collecting resource data. Candidates should demonstrate proficiency in public speaking and knowledge of raptors. Please submit a cover letter, resume, and three references (postmarked by March 23) to Raptor Internship, Acadia National Park, c/o Marc Neidig, P.O. Box 177, Bar Harbor, ME 04609. For more information, contact Marc Neidig at 207-288-8803 or via e-mail.
Interns work 32 hours per week and receive $100 per week plus housing. Uniform is required. Please visit https://www.nps.gov/acad/supportyourpark/internships.htm for full announcements and other intern and volunteer opportunities at Acadia.