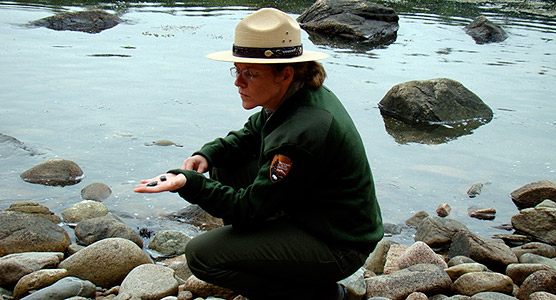 News Release Date:
October 27, 2008
Contact: Sujata Gupta, 207-288-3338
While many teachers dream about becoming a park ranger, few actually get to don the ranger hat. But four teachers did just that this summer at two national park sites in Maine.
As participants in the innovative Teacher-Ranger-Teacher program, these individuals spent the summer leading interpretive programs, staffing visitor centers, shadowing park employees and, of course, creating lesson plans. Teacher-rangers working at Acadia National Park included Renay Moran-Kurklen, a charter elementary school teacher from Queens, New York; Nancy Philbrick, a sixth-grade elementary teacher from Oxford, Maine; and Dwight Warnke, a tenth-grade biology teacher from Rolla, Missouri. A fourth teacher, James Randall, spent his summer at St. Croix International Historic Site, which is located near his school in Calais, Maine.
One of Acadia's overarching goals with this program is to attract teachers working with underserved youth. Consequently, many of the students in the teacher-rangers' school districts have never experienced a national park for themselves. Teacher-rangers, however, can provide kids with a national park experience through lesson plans developed during their time at a national park. These plans can cover anything from coastal ecology to animal behavior to regional history and culture.
This November, one teacher-ranger will also bring her class to Acadia to experience the park firsthand. Philbrick's sixth-grade class is scheduled to participate in the Schoodic Education Adventure, a park-based residential program for middle school students. All the teacher-rangers will also wear their ranger uniform to school during National Park Week in April as a way of generating interest in this country's natural and cultural heritage sites and promoting the National Park Service's stewardship and conservation message.
Acadia was proud to be the first national park site in the Northeast to participate in this program when it brought on a teacher-ranger last year. As part of the Engage Youth: Centennial Challenge project, Acadia increased the number of teacher-rangers from one in 2007 to four this year.
Philbrick says that, among other things, her summer at Acadia will help her incorporate experiential learning into her curriculum: "I will definitely provide my students more opportunities to 'do' science just as I have done this summer. The opportunity to learn and engage becomes so much greater when the students are actively involved. [TRT] provided me with new teaching strategies to use across the curriculum....This experience has been professionally refreshing."
More information about becoming a teacher-ranger is available on Acadia National Park's website. This link will direct you to a downloadable application form. You can also reach Cynthia Ocel, education coordinator, at (207) 288-8822 or e-mail her at cynthia_ocel@nps.gov.