Summits and Rocky Outcrops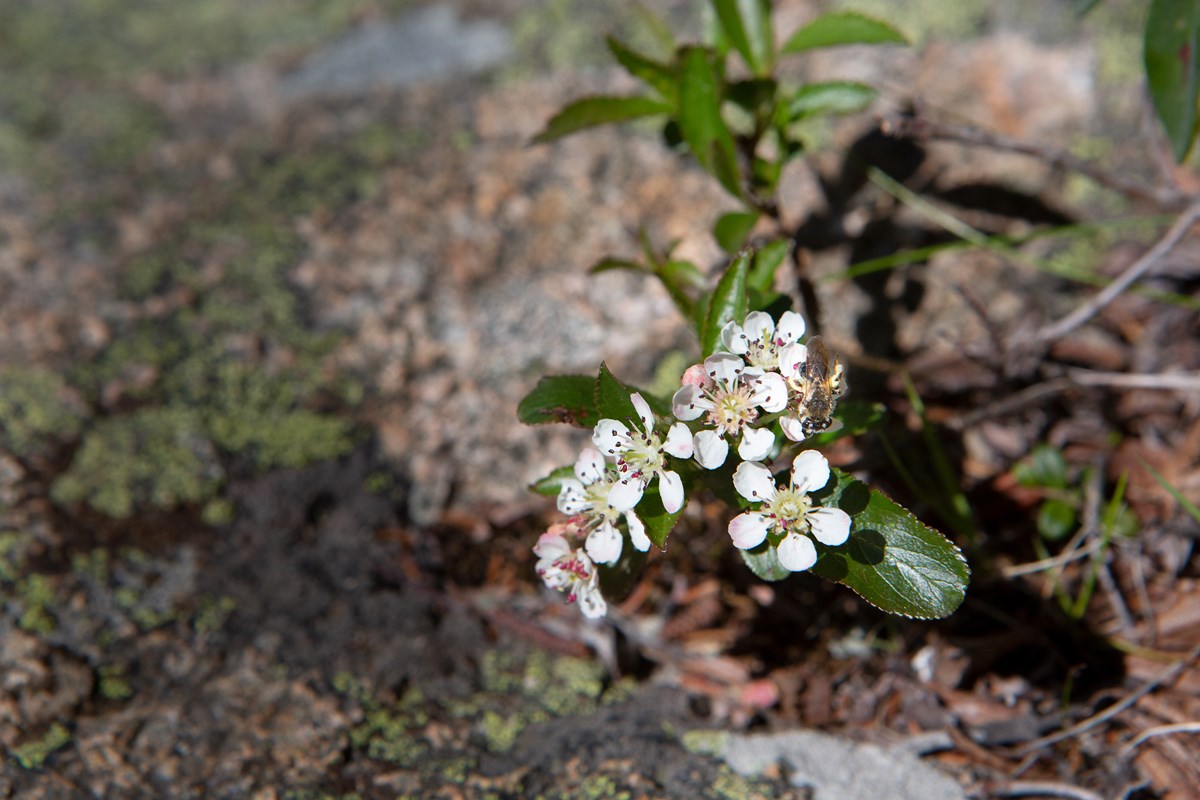 Fragile plant communities exist on mountain summits and rocky outcrops across Acadia. Spruce-fir forests are patchy and stunted in areas, while shrubs like mountain cranberries, blueberries, mountain holly, rhodora dominate the scene. Herbs like three-toothed cinquefoil is commonly seen, as are the bryoid layer of lichens and mosses on rocky outcrops.

Protection of these plant species can be challenging, especially in areas of the park more popular than most. With thousands of visitors throughout the summer months for decades, the summit area of Cadillac Mountain has sustained substantial loss of soil and vegetation. Fragile sub-alpine soils and plants are constantly impacted by social trails and heavy visitation.
Common Native Plants
The checklist below contains the park's most common plants within this community. The plant's growth form is indicated by "t" for trees and "s" for shrubs. To identify unfamiliar plants, consult a field guide or visit the Wild Gardens of Acadia at Sieur de Monts Spring, where more than 400 plants are labeled and displayed in their habitats.
All plants within Acadia National Park are protected. Please help protect the park's fragile beauty by leaving plants in the condition that you find them.

| | | |
| --- | --- | --- |
| alder, green or mountain | s | Alnus viridis ssp. crispa |
| aster | | Aster spp. |
| bearberry | s | Arctostaphylos uva-ursi |
| birch, gray | t | Betula populifolia |
| blueberry, low sweet | s | Vaccinium angustifolium |
| bush-honeysuckle | s | Diervilla lonicera |
| cherry, pin | t | Prunus pensylvanica |
| chokeberry, black | s | Photinia melanocarpa |
| cinquefoil, three-toothed | | Sibbaldiopsis tridentata |
| cranberry, mountain | | Vaccinium vitis-idaea |
| crowberry, black | | Empetrum migrum |
| fern, bracken | | Pteridium aquilinum var. latiusculum |
| goldenrod, Rand's | | Solidago simplex ssp. randii |
| harebell | | Campanula rotundifolia |
| heather, golden | | Hudsonia ericoides |
| holly, mountain | s | Nemopanthus mucronatus |
| huckleberry, black | s | Gaylussacia baccata |
| juniper, common | s | Juniperus communis var. depressa |
| juniper, creeping | s | Juniperus horizontalis |
| laurel, sheep or lambkill | s | Kalmia angustifolia |
| oatgrass, poverty | | Danthohia spicata |
| pine, jack | t | Pinus banksiana |
| pine, pitch | t | Pinus rigida |
| raspberry, red | s | Rubus idaeus |
| rose, Virginia | s | Rosa virginiana |
| sandwort, mountain | | Minuartia groenlandica |
| sarsaparilla, bristly | | Aralia hispida |
| sweetfern | | Comptonia peregrina |
| witherod or wild raisin | s | Virburnum nudum var. cassinoides |
Last updated: October 27, 2020