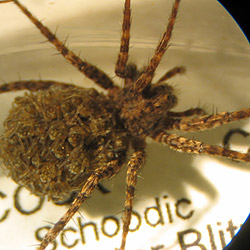 On July 20-23, 2007, spider researchers, entomologists, amateur and professional naturalists, and students gathered on the Schoodic Peninsula for the 5th annual BioBlitz in Acadia National Park. The 2007 inventory and cataloguing effort focused on spiders. Lead taxonomist Dr. Richard Bradley of the Ohio State University in Marion, Ohio, provided participants with an overview of spider biology and collection techniques before they headed out in the field for the 24-hour event.
Participants sampled a total of 57 locations. The collecting effort yielded 1,040 adult specimens representing:
18 families
101 genera
151 species (89 of these had not been recorded previously on the Schoodic Peninsula)
A full summary of results compiled by Dr. Bradley is available (pdf - 39kb). You can also check out a short presentation (pdf - 829kb) about the Spider Blitz.
The 2007 Spider Blitz was sponsored by the Maine Entomological Society, National Park Service, Maine Forest Service, University of Maine, and Dorr Museum of Natural History at College of the Atlantic.