SERC - Educational Opportunities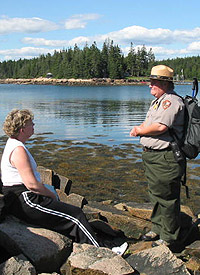 In addition to supporting and facilitating research, the Schoodic Education and Research Center seeks to disseminate the resulting scientific information and resource management decisions which are made based upon park research efforts. Through this sharing and exchange of information we seek to strengthen the dialog with, and understanding between, the park and its numerous stakeholder groups including local communities, researchers, educators, the public, and learners of all ages.
Resource Acadia
The Resource Acadia program is a public seminar series designed to inform and educate participants about innovative and interesting research activities being conducted within the park. The seminars strive to be participatory and hands-on, often including field-based activities.

Artist-In-Residence Program
The Artist-in-Residence Program at Acadia National Park offers professional writers, composers, and visual and performing artists the opportunity to pursue their art form while surrounded by the inspiring landscape of the park.
Schoodic Education Adventure (SEA) Program
The Schoodic Education Adventure Program is a three-day, two-night residential program for 5th through 8th grade students. Curriculum-based classroom activities and hands-on field experience offer an invaluable learning experience in a unique setting.
Teacher Workshops
Throughout the year, the education staff offers a number of teacher workshops designed to help educators bring the National Park Service into their classrooms. Many of these workshops are held on the SERC campus.
Moore Auditorium Speaker Series
The Moore Auditorium Speaker Series is a public outreach effort designed to inform local audiences on a diversity of natural science and cultural topics.