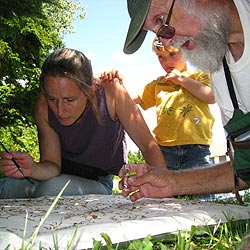 The Minor Order Blitz ran from August 7 to 10, 2009, at the park's Schoodic Education and Research Center. A total of 46 professional and amateur entomologists participated in the blitz, spending 1,308 hours searching for and collecting insects from 16 orders that have relatively few species in Maine.
Preliminary Results
Participants identified approximately 98 species over the weekend; the final tally may increase or decrease depending upon the actual number of springtail species (Collembola) positively confirmed. The approximate number of species collected and identified for each of the minor orders was:
Collembola - est. 40

Psocoptera - 20

Trichoptera - 13

Orthoptera - 10

Neuroptera - 6

Thysanoptera - 4

Dermaptera - 1

Diplura - 1

Archaeognatha - 1

Plecoptera - 1

Dictuoptera (Mantodea, Isoptera, Blattodea) - 1

Mecoptera - 1

Thysanura - 0

Ephemeroptera - 0

Phasmida - 0

Strepsiptera - 0
Interesting Finds
The Archaeognathan, Petrobius brevistylus, is known be restricted to the bedrock shores of the coast of NE North America. It was collected twice during the weekend.

The bog cricket, Neonemobius palustris, was taken at both bogs in the Schoodic section of the park using yellow pan traps.

The only Dictuopteran collected, was an introduced forest cockroach, Ectobius lapponicus, which was very common.

Several Psocopterans of interest were also collected.
Participants represented a number of institutions: Maine Entomological Society, Maine Forest Service, New Hampshire Department of Agriculture, University of Maine, University of New Hampshire, University of Southern Maine, Illinois State University, University of North Alabama, Texas A&M University, Colby College, and the Carnegie Museum of Natural History. In addition, a taxonomist from the University of Tennessee has agreed to identify the Collembola species not identified at the BioBlitz.