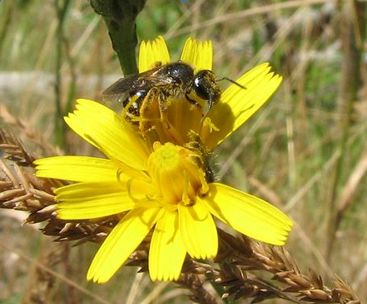 Near-perfect weather helped the Hymenoptera blitz at SERC (the Schoodic Education and Research Center) at Acadia National Park to be a success by almost any standard. About 70 people turned out to collect, pin, label and identify Hymenoptera, led by Ellie Groden and Frank Drummond of the University of Maine, and Sam Droege of the U. S. Geological Survey.
In early counts, with catches from numerous pan traps and Berlese funnel samples still remaining to be examined, there were already some 20 ant species in 10 genera known, with the number expected to rise to around 30 in the final count. (For comparison, the 2003 Ant Blitz on Mount Desert Island recorded a total of 44 species.)
Although only two were overwhelmingly dominant in the counts, there were at least eight species of bumblebees recorded in a bee fauna of over 30 species, that was expected to rise to at least 40 as more of the unknowns were identified; one highlight in this regard was the discovery of what could be a previously undescribed species of bee.
Perhaps surprisingly, despite the proximity of numerous homes to the park collecting sites, not a single European honeybee (Apis mellifera) was encountered in the blitz. The bee diversity was also quite surprising, inasmuch as the Schoodic Peninsula is predominantly spruce forest (not generally good bee habitat), and there are only some 70 species of bees known from the entire state of Maine.
Wasps were numerous and diverse, with Ichneumonidae, Braconidae, Vespidae and the Chalcidoidea being major groups represented. A tremendous amount of work remains to be done on this highly diverse assemblage, and experts are being ferreted out to help with specific groups. Over 100 Hymenopteran species were collected in this year's efforts. View a report of detailed results...