Evergreen Forests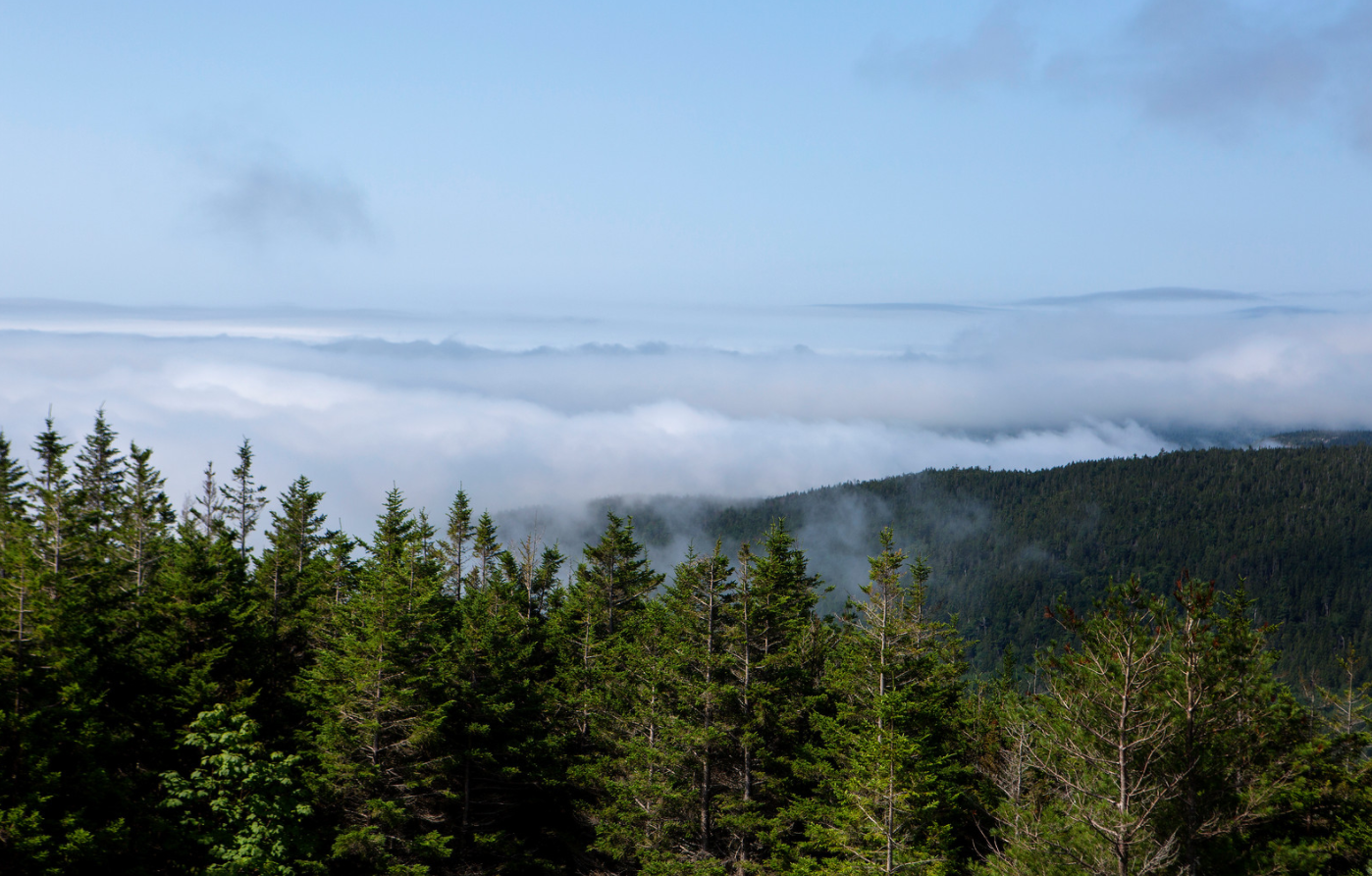 Acadia's iconic trails wind through a dark, dense forest, where wooden walkways protect a thick carpet of moss underfoot. Evergreens trees like red spruce, white spruce, and balsam fir characterize the canopy of this coastal forest. These trees, along with co-occurring white pine, eastern hemlock, and northern white cedar, are all conifers—a related group of trees that produce cones.
The floor of a spruce-fir forest is shaded by the dense canopy above, yet there are still other plants that grow here. Young canopy trees await opportunity among shrubs like lowbush blueberry and low ground covers such as bunchberry and wintergreen, while several different species of moss cover much of the forest floor.
Acadia National Park is home to diverse plant life in part because it exists in the boundary area between the eastern deciduous forest and northern boreal forest. This landscape-level change occurs throughout Maine, but the coastal forest is notable for its cool, foggy climate, ocean salt spray, and harsh weather conditions.
Old growth forests of this type are rare across the region; while the current boundaries of Acadia National Park encompass former pastures and logged areas, the protected spruce-fir forest here is older than other examples along the coast of Maine. These mature stands are home to wildlife, including
birds
like the sharp-shinned hawk and northern parula that rely on the coniferous forest. As the
climate changes
, the suitable habitat for spruce-fir forest species will shift northward, affecting not just the trees in the forest, but the relationships among all living things.
Common Native Plants
The checklist below contains the park's most common plants within this community. The plant's growth form is indicated by "t" for trees and "s" for shrubs. To identify unfamiliar plants, consult a field guide or visit the Wild Gardens of Acadia at Sieur de Monts Spring, where more than 400 plants are labeled and displayed in their habitats.
All plants within Acadia National Park are protected. Please help protect the park's fragile beauty by leaving plants in the condition that you find them.
| | | |
| --- | --- | --- |
| ash, American mountain | t | Sorbus americana |
| blueberry, low sweet | s | Vaccinium angustifolium |
| bunchberry | | Cornus canadensis |
| cranberry, mountain | | Vaccinium vitis-idaea |
| dewdrop | | Rubus dalibarda |
| fir, balsam | t | Abies balsamea |
| hemlock, eastern | t | Tsuga canadensis |
| hobblebush | s | Viburnum lantanoides |
| lily, bluebead | | Clintonia borealis |
| mayflower, Canada | | Maianthemum canadense |
| mountain holly | s | Nemopanthus mucronatus |
| partridgeberry | | Mitchella repens |
| pine, red | t | Pinus resinosa |
| pine, white | t | Pinus strobus |
| pinesap | | Monotropa hypopithys |
| pyrola, one-flowered | | Moneses uniflora |
| sarsaprilla, wild | | Aralia nudicaulis |
| shadbush or serviceberry | s,t | Amelanchier spp. |
| shinleaf | | Pyrola elliptica |
| spruce, red | t | Picea rubens |
| spruce, white | t | Picea glauca |
| starflower | | Trientalis borealis |
| trailing arbutus | | Epigaea repens |
| twisted stalk, rosy | | Streptopus lanceolatus |
| wintergreen | | Gaultheria procumbens |
| witherod or wild raisin | s | Viburnum nudum var. cassinoides |
| wood sorrel, northern | | Oxalis montana |
| woodreed, drooping | | Cinna latifolia |
Last updated: October 20, 2020