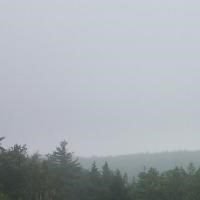 Located along the mid-coast of Maine, Acadia is downwind from large urban and industrial areas in states to the south and west. Periodically, high concentrations of air pollutants blow into the park from these areas. Acadia is considered a Class I area under the Clean Air Act, which means that the park deserves the highest level of air-quality protection.
Consequently, Acadia is deeply involved in the National Park Service's comprehensive air resources management program, designed to assess air pollution impacts and protect air quality related resources. The air resources management program at Acadia includes monitoring, research, and regulatory interaction with state and federal agencies.
Explore detailed information on Acadia National Park's air resources at
Air Quality in Parks.