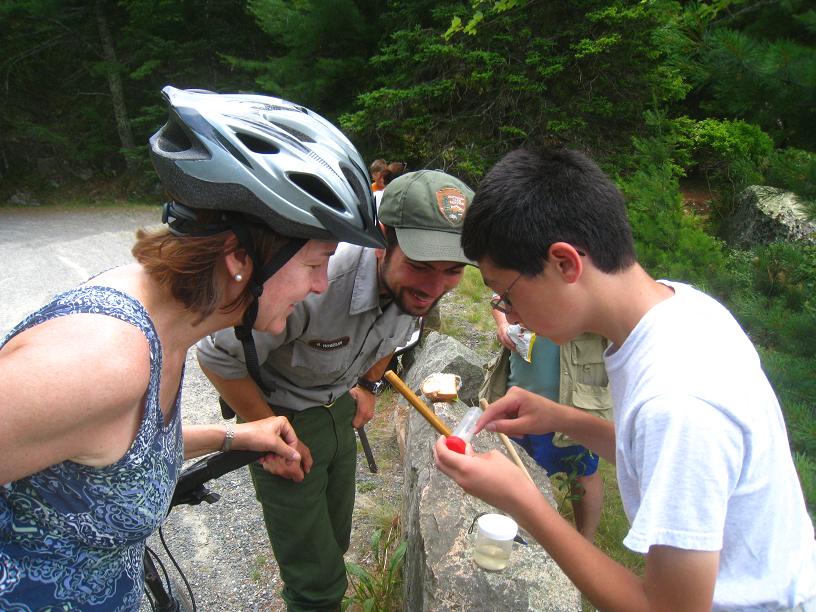 BioBlitz Series - Aquatic Insects (2012)
A total of 61 people contributed 1,419 hours to collect, sort, pin, and identify aquatic insects from streams, ponds, and wetlands around the park July 14-15, 2012. Based at the park's Schoodic Education and Research Center, participants included children and their parents, the park's high school youth technology team, park staff, and amateur and professional entomologists. The event was sponsored by the National Park Service, the SERC Institute, Maine Forest Service, Maine Entomological Society, the University of Maine, and the University of New Hampshire.
Dr. Don Chandler, Professor of Zoology and Curator of the insect collection at the University of New Hampshire, served as our lead taxonomist. So far, 226 species have been identified in 10 orders of insects; collected chironomids are still being identified. Many of the sampling sites on Mount Desert Island were habitats previously surveyed by William Procter (of the Procter and Gamble family) between 1927 and 1945.
Last year marked the park's 10th consecutive annual biodiversity discovery event (actually we've held 11 bioblitzes in that time period, all except one [mushrooms] focusing on different orders of insects and spiders). The previous arthropod bioblitzes at Acadia yielded 1,605 species in 248 families, including 525 and 109 new species records for the park and State of Maine, respectively. A report summarizing these results was recently published by the Maine Forest and Agricultural Experiment Station.