Wildland Fire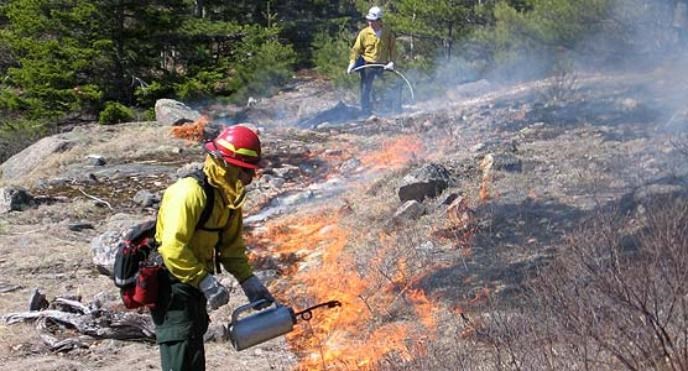 Fire Management Program

The fire management program at Acadia National Park performs a full range of wildland fire management operations and services, including fire prevention, education, preparedness, suppression, prescribed fire, hazard fuels management, the reduction of wildland/urban interface hazards, monitoring, and research. The program also conducts wildland fire prevention operations and provides fire management assistance to ten other National Park Service (NPS) units in New England and New York, which along with Acadia National Park make up the North Country Area Park Fire Management Group.
Some of the activities carried out by the fire management program include:
wildland urban interface education and outreach
operation of five wildland fire suppression engines and one water tender
maintenance of a hundred-person fire cache and a twenty-person fire cache
maintenance of a trained cadre of primary and incidental wildland firefighters
use of prescribed fire for management of park vistas and cultural landscapes
mechanical removal of hazard fuels in high use areas
creation and maintenance of boundary fuel breaks along park boundaries and around selected park facilities
monitoring of prescribed fires and long-term forest conditions
research into fire effects and the long-term history of wildland fire in the park.
The fire management staff also administers the Rural Fire Assistance Program, which provides federal financial assistance to rural fire departments that assist the park.
Mobilization of park and other North Country Area firefighters to out-of-state fires is coordinated and directed by the fire management staff. This mobilization service is also provided to wildland firefighters from other federal agencies in the area, including the Bureau of Indian Affairs and the U.S. Fish and Wildlife Service, and to local Indian tribes.
Structural fire prevention operations include the inspection and maintenance of fire extinguishers, acquisition and maintenance of fire detection and fire suppression systems in park buildings, and coordination with local fire departments that provide structural fire suppression services for park buildings. The fire management staff also provides professional, technical, administrative, and logistical support to the fire management programs of the ten other NPS units in the North Country Area.
These programs protect the lives of park staff, visitors, and neighbors; provide wildland and structural fire protection to the 35,500+ acres of land and 200+ buildings that make up Acadia National Park; and assist ten other National Park Service units in the protection of their people and resources from fire.

For information about wildland/urban interface, click here.

Wildland Fire Fuel Break
For information on wildland fire fuel break, click here.
For maps of fuel breaks, click here.


Last updated: May 7, 2018