Mount Desert Island Visitor Management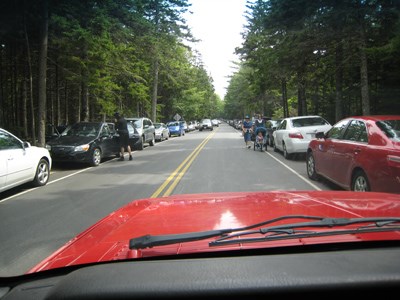 Auto congestion, overflow parking, and erosion on popular trails are the most apparent symptoms of high use throughout park lands on MDI. Although park use has dropped dramatically from 2.8 million visits in 1995 to 2.5 million visits in 2002 and to 2.0 million visits in 2008, these symptoms continue in many locations throughout the park. Addressing visitor management and capacity for the MDI section of the park is complex and problematic, but it is recommended in the park's 1992 General Management Plan.
In 2000, Acadia National Park took the first step in this process, hosting a visitor capacity charrette (workshop). Park staff, local interests, and outside experts convened to brainstorm strategies for dealing with this issue.
The outcome was a
report
recommending ten potential strategies. This was followed up in 2003 by a
visitor use management strategy
prepared for the Acadia National Park Advisory Commission. A visitor management and capacity planning process began in 2003, and extensive social science research to support decision-making was conducted in 2004 and 2005. More research and inventory of resource conditions was conducted from 2007 to 2009. The intent is to address the popular areas of the park (such as Cadillac Mountain (see Cadillac Mountain link) as well as those sites less used. For details, see the link to the
February 2006 Briefing Statement
about the project.
Last updated: February 26, 2015