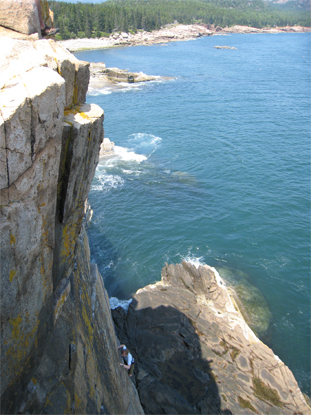 Rock climbing increased greatly in popularity at Acadia in the 1980s. Otter Cliffs became crowded largely because of its popularity with groups, easy access, and spectacular setting. Severe soil erosion and vegetation loss occurred. The installation of fixed protection was also increasing at Acadia and of concern to managers, although it was not excessive when compared with other climbing areas in the region.
Between 1995 and 1997, Acadia National Park developed a climbing management plan with public input. The plan was approved by the superintendent and the regional director on July 1, 1997. Several actions recommended in the plan have already been implemented. To protect soils and vegetation from further damage, the park installed a limited amount of fixed protection at Otter Cliffs. Vegetative restoration work took place there in 1998 and areas are now roped off to prevent human activity and allow recovery, which is now quite evident. A portable toilet was installed in the parking area at Otter Cliffs in 1997. Group use of Otter Cliffs is now limited to two groups of 12 persons each day and reservations are required. A self-administered registration card system for all climbing in the park began in August 1997; it was eliminated in 2001, having served its primarily educational purpose.
For a look at the plan and other associated climbing documents, visit the
Acadia National Park Climbing Management
page.