For Kids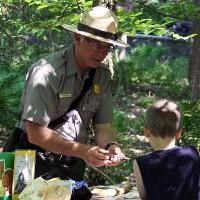 Become a Junior Ranger
What is a Junior Ranger?
A junior ranger attends ranger programs, completes activities in a workbook, and promises to take care of Acadia. It is a great way to learn and have fun in the park!
How do you become a Junior Ranger?
When you arrive in the park, stop by a visitor center, nature center, or one of the park campgrounds to obtain your booklet. Complete activities in the booklet and attend ranger programs. A park employee will check your answers, sign your booklet and give you an official Acadia Junior Ranger patch.
What about the National Junior Ranger program?
Learn more about the National Junior Ranger program here.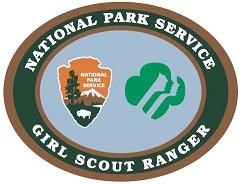 Girl Scout Ranger Program
The Girl Scouts of America and the National Park Service has partnered together to create opportunities for Girl Scouts to connect with our nation's precious natural and cultural resources while engaging in fun and meaningful activities in our national parks.
How do I become a Girl Scout Ranger?
Once you have recorded 5 hours, bring your log sheet and your printed certificate to a visitor center to be officially signed. After completing 10 hours of service you can earn a well-deserved Girl Scout Ranger badge!

For more information visit: https://www.nps.gov/subjects/youthprograms/girlscoutranger.htm
Girl Scout troops interested in this program must schedule through the volunteer coordinator at 207-288-8716 or by email.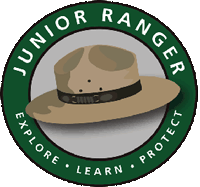 Links for Kids
Every Kid in a Park gives unlimited, free access to Acadia National Park and any federal lands to every 4th grader in the country and their guests through August 31, 2017. Visit www.everykidinapark.gov, play an online game, then download and print your own park voucher or pass.
WebRangers
Design your own ranger station, explore parks, and collect virtual junior ranger badges!
Are you doing research? Check out our
School Projects
page!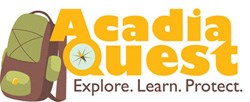 Acadia Quest

Acadia Quest is a series of youth- and family-oriented experiences in the park that encourage youth and families to explore, learn about, and protect national parks and other conserved lands.
Families or friends create a team and complete activities in categories of Explore, Learn, and Protect. For more information, visit the Friends of Acadia website here.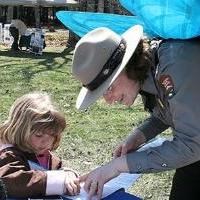 National Junior Ranger Day (spring)
To celebrate National Park Week, family groups with children 12 and under are invited to come join in the fun as we explore, learn, and discover how to protect your national parks. Have a picnic, play games, visit a beaver pond, and learn about Acadia's wildlife, plants, and human history. There is no charge to participate; children must be accompanied by an adult. Connect to the 2017 Junior Ranger Day Event Listing.


Last updated: January 11, 2018