Field Trips
The Carroll Homestead - Four Generations in Maine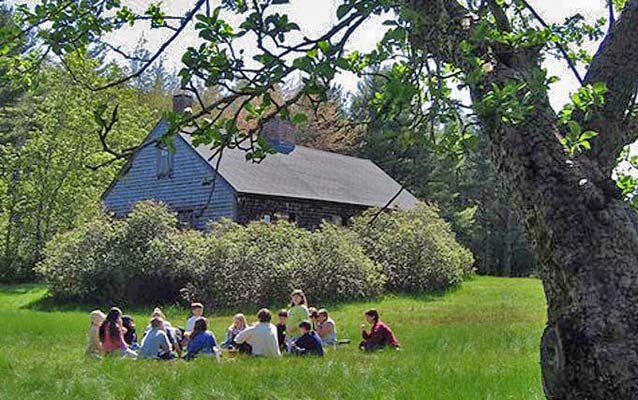 Description
This hands-on history program gives students a chance to explore a typical family home from the mid 1800s. The "Mountain House", as it was called, is where four generations of the Carroll family lived, worked, and played from 1825 - 1917.  As students explore the homestead, they are asked to think about a day in the life of the Carroll family. What was it like to be a child back then? How did families survive without computers, microwaves, and cell phones? Inside the modest house students look for what is similar and different from their own homes. On the homestead grounds, students test their sleuthing skills in a group quest to find evidence of the original farm and observe changes in the land over the past century.
Outside, they try their hand at stilts, hoops, Jacob's ladders, tops, and a rousing game of Haley Over - always a favorite. At the end of the program students are encouraged to ask questions that might help them develop their own stories to tell.   Many go home and enthusiastically urge their families to visit the Carroll Homestead with them to share what they learned. Students leave with the understanding that although their lifestyles today are quite different from long ago, they still share many similarities with the Carroll children. They also leave the program with a better understanding of Acadia National Park's role in protecting cultural history.

For lesson plan and background information, click here.
This lesson was designed by Teacher-Ranger Nancy Welch as part of a multidisciplinary unit for grades 4-6. In it you will find pre / post visit and on-site activities that use primary sources, oral history, and student worksheets, an assessment rubric, links to the Common Core Standards and more helpful resources. Learn about our Teacher-Ranger-Teacher professional development opportunity here.

Details
Subject:

Family Life, Historic Preservation, History, Pioneer America, Social Studies

National/State Standards:

Maine State Learning Results 2007
Career Education: A3; A4; C3; C4
Science & Technology: C3 Science, Technology & Society
Social Studies: D3 and E2 Global Connections in Geography & History; E1 Historical Knowledge

Keywords:

19th century, family homestead, subsistence farm, farming, history, coastal living, pioneers

type:

Field Trips