Field Trips
Schoodic Education Adventure Residential Program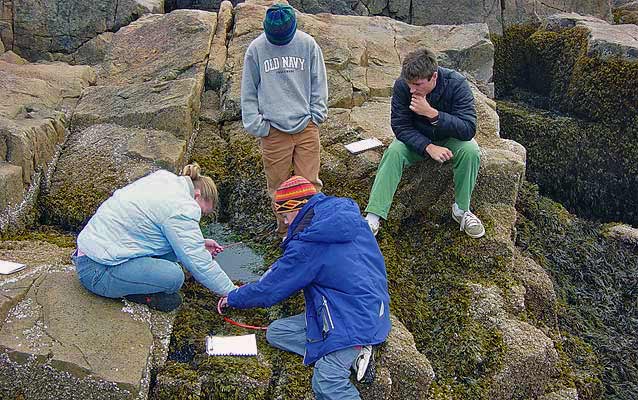 Description
Reservations
Reservations to attend the Schoodic Education Adventure are accepted January through June. The application process is ongoing, but program slots fill quickly. For the best chance of securing a slot for your class, submit your reservation, via e-mail, by mid-May.
Partial tuition scholarships are available; the scholarship deadline is March 15. Please submit the scholarship application when you submit your reservation. (See the scholarship link below for more information.)
Apply now!
Contact kate_petrie@nps.gov for information.

SEA Teacher Institute
This training, a prerequisite for attending SEA, provides an overview of teacher kits, campus logistics, and the variety of ranger programs offered. Contact the SEA coordinator to find out more about teacher institutes.

Program Details
The low-cost SEA program is aligned with the Next Generation Science Standards and integrated across the Common Core. Opportunities for study include math, science, technology, social studies, language arts, physical education, health, and art. Students utilize actual scientific and cultural research taking place on site. Students practice small-group cooperation and communication skills while attending both ranger and teacher instruction.
Ranger programs cover a wide variety of topics:
Biological inventory of a forest

Mock archeology dig

Geology walk and bedrock geology mapping

Forest succession study

GPS mapping with computers

Marine investigations and population study by tidal depth
A well-stocked teacher's library is available on site, providing prepared kits about diverse topics. Teachers also have the freedom to bring their own related lessons.
Facilities and Staff
The Schoodic Education and Research Center (SERC) campus offers a comfortable learning environment within Acadia National Park. Programs are held both in indoor classrooms and outdoors. The SERC campus has a wireless Internet system for laptop users and on-site computer labs.
All students are housed with their own teachers and chaperones in a modern, heated dormintory with four-person bunkrooms. Well-balanced meals are provided by a certified cook; with advanced notice, food allergies and most special diets can be accommodated.
Program staff are trained in subject matter and teaching techniques, as well as First Aid and CPR. The director of the SEA program holds Maine state teaching certification. The Education Coordinator overseeing the SEA program holds Maine state teaching certification, ensuring that all instruction is curriculum based.
For More Information
To learn more about the SEA program and teacher institute schedule, please contact:
SEA Director
Acadia National Park
P.O. Box 177
Bar Harbor, ME 04609
Contact
Kate Petrie
207-288-1312
Details
Subject:

Archaeology, Biology: Animals, Biology: Plants, Earth Science, Geography, Geology, Marine Biology

type:

Field Trips