Traveling Trunk
Passamaquoddy History & Culture: A Traveling Teaching Kit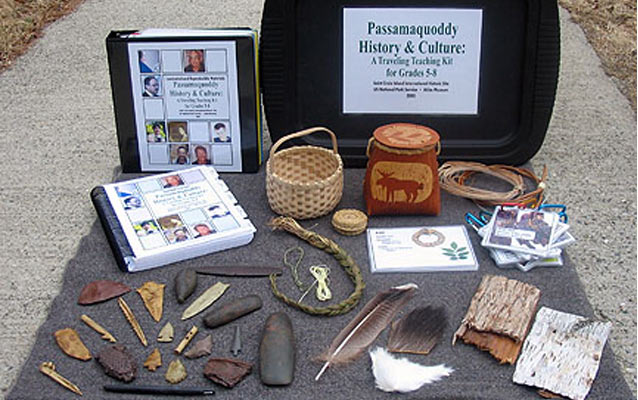 This kit has been designed to meet Maine Learning Results in grades 5-8 but is easily modifiable for use in other grade levels. We suggest that the lessons in this kit be worked through sequentially; however, each lesson has been developed to stand on its own and/or be infused into other classroom units. We encourage all modifications that engage students and develop understanding. Please evaluate any other activities you may develop (such as crafts, recreated feasts, or role playing) to make sure they do not perpetuate myths and/or cultural stereotypes.
To build a Passamaquoddy Kit of your own, you can download the kit's contents here.
The Passamaquoddy Kit won third place in the curriculum category of the annual competition for media awards by the National Association for Interpretation (NAI).
Borrowing Instructions
The kit is available to schools for loan up to four weeks through the following sites:
·         Saint Croix Island International Historical Site, Calais - 207-454-3871
·         Abbe Museum in Bar Harbor - 207-288-3519
Teachers are responsible for picking up and returning the kit. There is no charge for the kit but schools may have to pay for shipping and for the replacement of missing or damaged items. For more information, please contact us at the above phone numbers or by
email
.
Details
Subject:

American Indian History and Culture, Archaeology, Community, Constitutional Amendments, Ecology, Family Life, Government, Health, History, Leadership, Linguistics, Visual Arts

National/State Standards:

The Maine 2001 legislature LD291 and 2007 unfunded mandate requires Wabanaki Studies are incorporated into Social Studies content.

Keywords:

Passamaquoddy, Wabanaki, Native American history, Native American culture, artifacts, Maine history

type:

Traveling Trunk
Last updated: December 27, 2015