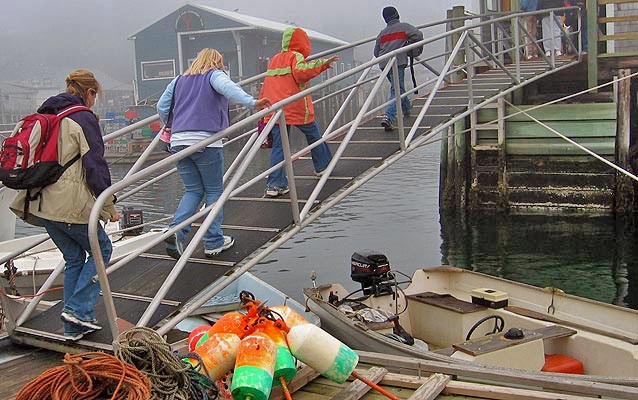 Description
A trip to Acadia National Park's Islesford Historical Museum tells the story of the Cranberry Isles, five little islands off the coast of Maine, and why they were vitally important to our developing nation in the 1800s. What happened here on the Cranberry Isles was connected to the rest of the country and even the world. During the early part of our nation's history, the sea served as a superhighway. Local supplies of fish, lumber, granite, and ice were in high demand. Maine's coastal islands were valuable places to live and well populated with ship builders, sailors, merchants, coopers, farmers, school teachers, and midwives, typical occupations of the time. Discover how these early settlers survived despite harsh living conditions.
Ferry costs for students and a limited number of adults are generously funded by Eastern National, Acadia's bookstore partner.
Based on the Islesford Historical Museum and the Blue Duck Ship's Store, Life on an Island: Early Settlers of the Rock-bound Coast of Maine is a lesson plan of historical places and significance. Click here for an Educator's Guide.

Contact
Cynthia Ocel
207-288-8812
Details
Subject:

Career Studies, Commerce and Industry, Community, Family Life, Geography, Historic Preservation, Maritime History, Museum Studies, Science and Technology, Social Studies, Transportation

National/State Standards:

2007 Maine Learning Results
Career & Education: Self-knowledge & Relationships A3, A4
Life Roles B1
Decisions & Opportunities, C3, C4
Science & Technology: Unifying Themes A2, A3, A4
Physical Setting D1, D2
Social Studies: Geography D1, D2
History E1, E2

Keywords:

maritime history, navigation, historical museum, islands, geography, early settlers, community

type:

Field Trips