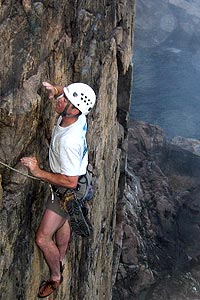 General Guidelines
Please sign daily use logs at the South Wall, Otter Cliff, and Canada Cliffs.
Use established access trails. Walk and rest on durable rock surfaces whenever possible. Avoid vegetated areas.
Be extra careful on steep, erosion-prone slopes at Canada Cliffs.
Use colored chalk that blends with local rock.
Otter Cliff - Special Guidelines
Avoid using trees for belays.
Use your gear and existing fixed anchors to set up climbs.
Use the restroom in the parking lot.
Proactively share climbing routes with others.
Learn more about climbing in Acadia.