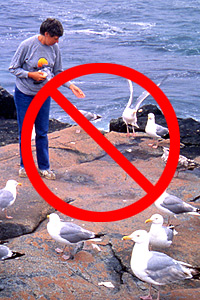 Do Not Feed Wildlife.
Store Food and Trash Securely in Campsites.
Wild animals fed by people often starve in winter, get hit by cars, or become dangerous pests. Feeding may alter migration, foraging behavior, and reproduction. Human food is not nutritious and not intended for digestive systems of wildlife.
Gulls, squirrels, chipmunks, and raccoons are wildlife too.
People feeding wildlife may be injured or contract rabies.
Observe Wildlife from a Distance
Deer, bear, and moose can hurt you. The rabies shot series is no picnic either.
You may observe more interesting behaviors by keeping your distance (be patient).
Wildlife are especially sensitive to disturbance when breeding, nesting, and feeding, and also in winter. If wildlife alter their behavior, you are too close. For an eagle, this may be simply a turn of the head or a shrug of the shoulders.