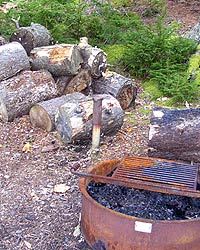 Fire Regulations
Contained charcoal and wood fires are allowed only in campgrounds and designated picnic areas in park-provided receptacles or in private grills. Use of personal gas grills and stoves are permitted throughout the park, except within public buildings.
Dead wood on the ground may be collected for use as fuel for campfires within the park, provided that wood is not collected from within the campgrounds, except from park-provided wood piles, and chainsaws are not used to gather wood.
General LNT Fire Guidelines
Is a fire needed? Use a stove to cook or a candle lantern for light.
Gather wood that is dead, down, distant, and dinky. Distant to spread the impact. Dinky so that it burns completely, and large, ugly, half-burned logs do not spill out of the fire ring. Use small diameter wood that you can break by hand.
Keep your fire small. Large fires singe and kill low tree branches.
Pack out non-combustible trash. Don't try to burn it.
Extinguish fires completely before leaving campsites.
When backcountry camping at another park (it is not allowed in Acadia), use established fire rings when available.
Help Prevent Unplanned Fires
Dispose of cigarettes properly (not on the ground).
Observe fire bans when in place.