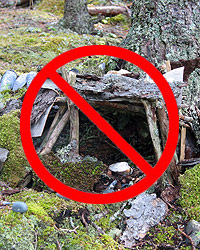 Leave Plants, Animals, and Other Natural and Cultural Objects in Their Place
Removing these resources:
threatens species survival,
degrades the natural landscape,
denies others the chance to discover and enjoy them, and
forever destroys the archeological context and takes the story out of history.
There are a few exceptions to this. The following items may be gathered by hand for personal use or consumption, in accordance with these restrictions:
Fruits and berries (excluding apples) - one dry half gallon per person per day
Unshelled nuts - one half gallon per person per day
Apples - five dry gallons per person per day
Removing fruits, nuts, and berries shall not damage the remainder of the plant.
Collecting unoccupied seashells is permitted provided that shells are not collected from historic and prehistoric sites or shell middens.
Dead wood on the ground may be collected for use as fuel for campfires in campgrounds and designated picnic areas, provided that wood is not collected from within the campgrounds, except from park-provided wood piles, and chainsaws are not used to gather wood.