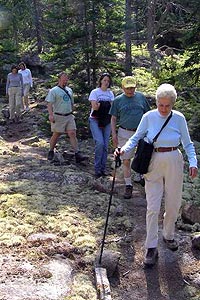 On the Trail - Fight Trail Widening and Braiding
Look up for the next blaze or cairn.
Stay on established trails to preserve fragile plants and soil, especially on summits, ridges, and open ledges covered with fragile lichens.
Hike single file in the center of the tread, no matter how rocky, muddy, or wet. Don't widen the trail by sneaking around the edges.
If you must step off-trail or take a break, always choose the most durable surface—bedrock, gravel, and dry grass are the best choices.
Off-Trail in Pristine Areas
If you travel off-trail, maintain a higher level of awareness and a stronger ethic and commitment to LNT.
Spread your use and impact. Have each person take a different route. Keep your group small: six or fewer.
Use the most durable surface. Avoid fragile foliose lichens and reindeer moss, often found on bedrock.
Avoid steep slopes, wetlands, stream banks, and subalpine vegetation.
Do not add to or build cairns, or flag or otherwise mark your route.
Camping
Backcountry camping is prohibited in Acadia because of its small size, high visitation, and the fire danger for our neighbors, but LNT applies at Blackwoods and Seawall Campgrounds, too!