Education Intern Joanne Kellner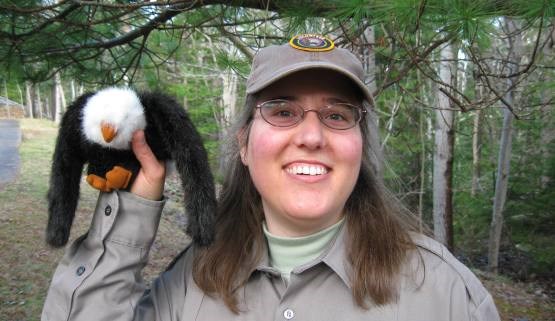 June 3, 2011
Why did you become an education intern at Acadia?  Was the intern experience what you were expecting?  Were there any surprises?
I have a Bachelor of Science degree in Parks, Recreation and Ecotourism with a minor in Natural and Cultural Heritage Interpretation from Unity College in Unity, Maine. Because my career goal is to be an Interpretation Ranger in a national park, when I saw a park ranger walking around in the hallway at school, I introduced myself. The ranger was Ranger Michael. He told me about the Education Internship, so I applied and was accepted. I hope that the experience I gained here will help me meet my future goals by looking good on my resume and helping me to find a permanent job as a park ranger. The internship was largely what I was expecting; the only real surprises were extremely minor things, like the sudden appearance of June Bugs at my windows on warm evenings (they're big bugs, and I'd never seen one before, so I wasn't sure what they were).
What did you learn from your internship at Acadia? What did you enjoy the most?
I learned that black flies are annoying! They are the larger equivalents of the no-see-ums I'm familiar with in Massachusetts. I also learned about tangibles, intangibles, and universal concepts; these were topics that were largely left out of my coursework in Interpretation at school. I also learned an updated Interpretive outline framework and where I can go to get more training online.
I enjoyed working with third-graders the most. Third-graders are generally enthusiastic and not afraid to show it.
What recommendations do you have for future interns?
The pace can be frenetic at times, but enjoy the job while it lasts. It will be over before you know it!
Has this experience influenced your future path?
Hopefully, this internship has been a further step along my path. Traveling to schools to give programs was a new addition to my resume, and I'm looking forward to gaining more new experiences in my next internships. I am hoping that this internship will prove to be a stepping stone toward my eventual goal of permanent employment in the National Park Service.
What impressed you about Acadia National Park and the National Park Service?
Acadia is beautiful, and all the people who work here are really nice. I have worked as a seasonal or temporary employee at four national parks and then at one U.S. Army Corps of Engineers site, so returning to the Park Service was more about re-assimilation than assimilation. The main thing that attracts me to the Park Service is its commitment to preserving America's special and beautiful places for the edification and enjoyment of future generations. Without people and organizations dedicated to preserving the plants, animals, land and history of our country, all of those things would be mowed down in the name of "economic development" and "progress" within decades.
Last updated: February 26, 2015