March 2019 Monthly Theme: Women's History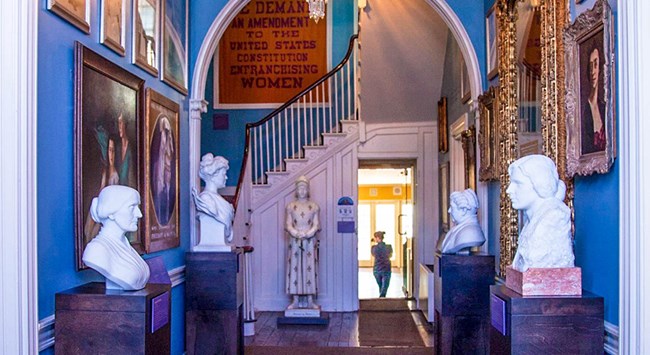 Women have long been involved in changing the course of history. For the Servicewide Theme this month, we are exploring the contributions and achievements of women that are captured by parks and programs across the National Park Service.

Taking part in the national celebration of Women's History Month, the NPS family is highlighting the stories of women's roles in shaping history that are captured within national parks and in communities through projects by NPS programs and our partners. As the centennial commemoration of the ratification of the 19th Amendment gains momentum, we can share stories of the struggle for women's suffrage.
For parks, NPS programs, and our partners, here are some thoughts to get your ideas going!
Highlight women's history connections represented or preserved by your park or program, especially women as leaders and influencers of change.
At this time 100 years ago, what was happening in your state or community in the women's suffrage movement?
Connect women's history with other themes this month, such as Science Education Day (March 14), St. Patrick's Day (March 17), and World Poetry Day (March 21).
Introduce female NPS employees, interns, and volunteers working in various career fields, both past and present, and how they are leaders and innovators.
Share specific ways you work with partnerships in preserving or interpreting women's history.
Tell a story of women's history through objects in your museum collection, especially related to the suffragist movement or innovation.
Highlight National Register or National Historic Landmark sites related to women's history.
Share or create lessons plans and other kids programs to learn about women's history.
Think about inviting women to plan a girls' recreation getaway in your park, or have a healthy hour in lieu of a happy hour.
Are there interesting stories about the females of animal species in your park? Share them and help educate visitors about watching and enjoying wildlife from a safe distance.
Social Media
Social media hashtags include #WomensHistoryMonth and #TellingAmericanStories. Don't forget to use #FindYourPark/#EncuentratuParque so that the NPS national accounts and the National Park Foundation can easily find and possibly share your posts!

Feel free to link back to these pages on NPS.gov:
Other March Themes & Activities
Last updated: March 4, 2019