January 2018 Monthly Theme: Opening Doors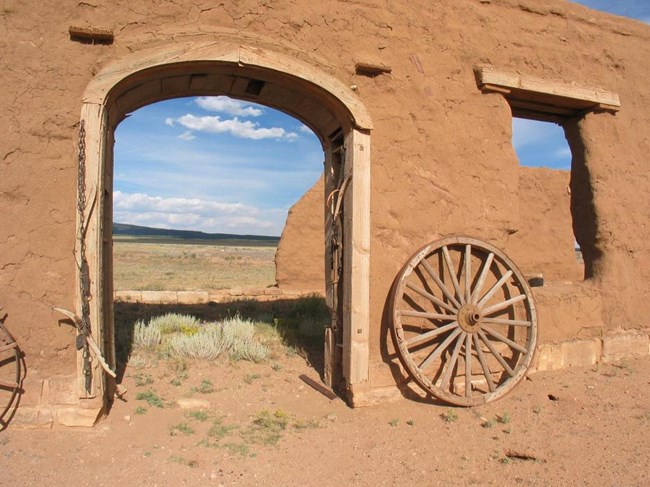 The National Park Service protects unique and significant doors, entryways, and gates across the country. These places also symbolize gateways to new experiences, from outdoor adventures, to education and learning, to careers.
For the January Monthly Theme, we are encouraging parks, programs, and partners to use doors, gates, entryways, openings, windows, or other physical "doorways" as a metaphor for how parks and NPS programs can open doors to new opportunities.
Perhaps there's a creaky old door in a historic building that you protect? Who walked through that door and how did that change history?
Perhaps there's a window that looks out to a view of a battlefield or other important site where history happened?
Perhaps there's a cave opening that has opened the door to scientific discovery and exploration?
Perhaps there's a classroom door where students enter to learn about their national parks or an office where youth have opened the door to a new career involving parks or public lands?
Perhaps there's an exterior door that leads people to outdoor activities and adventures? Or that welcomes visitors inside to get out of the cold and visit a historic home?
Perhaps there's a project or a grant that will result in keeping park and public lands open to visitors or opening them up to new visitors, especially visitors with disabilities?
With its highly interpretive and metaphorical nature, this month's theme lends itself well to video, audio, and photos. Social media posts for this monthly theme could include:
Videos of doors creaking open or old locks clicking;
Views looking out doors and windows;
Simply photos of the doors, gates, or windows themselves if they are architecturally or historically interesting;
Timelapses of views looking out windows and doors or of the thousands of visitors coming in and out of a door each day;
Links to virtual tours that open doors to a park from visitors' computer.
Don't hesitate to be symbolic, creative, and atmospheric -- focusing on sights, sounds, light, and textures. Use this as an opportunity to encourage people to experience parks and public lands in new ways, such as using their senses to look, listen, and feel their surroundings!
Other January activities:
January 1: First-day Hikes
January 15: Martin Luther King Jr Day of Service
January 17: Kid Inventors Day
Last updated: December 18, 2017